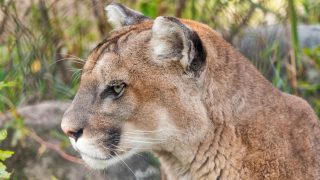 California: Contact your State Senator to Ban Super-Toxic Rodenticides
THIS ACTION IS CLOSED.
You've spoken, and California legislators are listening. AB 1788, the California Ecosystems Protection Act, has passed the California Assembly and several Senate committees. It's next being heard by the Senate Appropriations Committee – and we need your help to ensure AB 1788 makes it through this step!
AB 1788 would ban super-toxic rat poisons – second generation anticoagulant rodenticides – throughout the state, except for agricultural use or by special permit. These are the most toxic – "one feeding kills" – poisons that stay in rodents' systems long after death and contaminate the food chain. AB 1788 would also ban the use of less potent, though still very dangerous, first generation anticoagulant rodenticides on state-owned lands.
This bill is urgently needed. California's wildlife is being poisoned to death. A recent state analysis found that more than 85% of California mountain lions, bobcats, and Pacific fishers have been exposed to these dangerous poisons.
We need everyone to call their state senator in support of AB 1788! If you're not sure who your senator is, find out here. Please only call your personal senator. Calls to legislators who do not represent your district are counterproductive and could endanger the bill.
If your Senator sits on the Senate Appropriations Committee, please call them as soon as possible and ask them to vote "YES" on AB 1788.
If your Senator does not sit on the committee, please call them anyways and ask them to vote "YES" on AB 1788, as well. If AB 1788 passes out of committee, it will likely go to a full Senate vote soon after.
Sample Message: I am your constituent, and I care about protecting California's wildlife. Please vote YES on AB 1788, the California Ecosystems Protection Act.
Members of Senate Appropriations Committee
| | | |
| --- | --- | --- |
| Sen. Anthony J. Portantino (Chair) | Pasadena/Los Angeles | 916-651-4025 |
| Sen. Patricia C. Bates (Vice Chair) | Orange County/San Diego County | 916-651-4036 |
| Sen. Steven Bradford | Los Angeles County/Inglewood | 916-651-4035 |
| Sen. Maria Elena Durazo | Los Angeles/Echo Park | 916-651-4024 |
| Sen. Jerry Hill | San Mateo County/Santa Clara County | 916-651-4013 |
| Sen. Brian W. Jones | San Diego County/Escondido | 916-651-4038 |
| Sen. Bob Wieckowski | East Bay/Silicon Valley | 916-651-4010 |
Thank you for speaking up for California's wild animals
Related
Today the House of Representatives voted 272 to 114 to pass the Big Cat Public Safety Act. Endorsed by the Animal Legal Defense Fund, the bill prohibits the private ownership of big cats and makes it illegal for exhibitors to allow direct contact with cubs.

The Animal Legal Defense Fund filed a lawsuit against the United States Department of Agriculture (USDA) under the Freedom of Information Act (FOIA) over the agency's critical redactions in a contract between the USDA's Wildlife Services program and a Colorado slaughterhouse, outlining plans for slaughtering geese rounded up in parks across Denver.

The Animal Legal Defense Fund released the second in a series of white papers — COVID-19 and Factory Farming —providing policy recommendations to address industrial animal agriculture's role in our heightened risk for zoonotic diseases outbreaks, like COVID-19, and its potential to be the source of the next global pandemic.