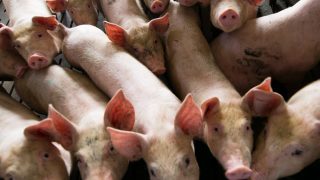 Arkansas Residents: Stop the Ag-Gag Bill
This action is closed.
UPDATE – March 24, 2017:
Thank you to everyone who took action to defeat this bill. Unfortunately, Arkansas Governor Hutchinson signed HB 1665 into law, but we're not done fighting.
We need your help to stop House Bill 1665, a proposed new Ag-Gag bill being considered by Arkansas lawmakers. This law is designed to deter whistleblowers, journalists and undercover investigators from publicizing information, including conditions for animals on factory farms. The law would allow factory farm employers to sue whistleblowers directly, who could be liable for tens of thousands of dollars.
The bill has already passed the house and is headed to the senate—urge your state senators to oppose House Bill 1665.
Ag-Gag bills, which are pushed by lobbyists for corporate agriculture companies, are an attempt to escape scrutiny over unsafe practices and animal abuses by threatening liability for those who expose these improper and, in many cases, illegal practices. Arkansas's version is written so broadly that it would also ban undercover investigations of all private entities, including nursing homes and daycare centers. This law would silence conscientious employees who wish to report wrongdoing.
Please, contact your senators today. You hold the power to prevent this dangerous bill from becoming law. Please share this with your friends and family in Arkansas.
This action is only available to Arkansas residents.
Related
On April 24, 2018, Governor Larry Hogan signed into law HB 1662, the "No More Puppy-Mill Pups Act of 2018," making Maryland the second state to ban the retail sale of dogs and cats obtained from commercial breeding facilities.

The Lewis & Clark Animal Legal Defense Fund Student Chapter had a busy semester in spring 2018, holding three big events: its annual Animal Law Networking event, the Food Law Symposium, and its MeatOut BBQ.

Reward for information leading to the arrest and conviction of the person or people responsible