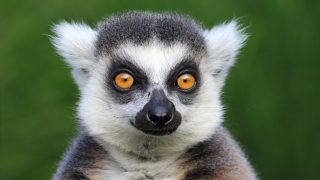 Animal Protection Group Sends Notice of Intent to Sue to Pennsylvania Roadside Zoo
Animal Legal Defense Fund Alleges Inadequate Conditions and Mistreatment at Farmers Inn
Contact: media@aldf.org
Pittsburgh, PA – The Animal Legal Defense Fund, the nation's preeminent legal advocacy organization for animals, sent notice to Farmers Inn in Sigel, Pennsylvania declaring its intent to sue the roadside zoo for maintaining animals in squalid conditions in violation of the Endangered Species Act and state wildlife protection laws.
Farmers Inn holds multiple endangered animals such as gray wolves, a ring-tailed lemur, and a black leopard in grossly deficient conditions. Queen Louise, a ring-tailed lemur and highly social species, is kept alone in a tiny, dirty enclosure without adequate food or water and without psychological enrichment objects. Additionally, Jack and Jill, two black bears, are confined to cramped enclosures with concrete floors. A visitor recently observed the bears in heat distress, lying motionless in their cage on a day when temperatures exceeded 90 degrees.
The Animal Legal Defense Fund has offered to facilitate the transfer of all animals currently held at Farmers Inn to sanctuaries where their unique needs can be met. However, the lawsuit will proceed if the owners continue to maintain the animals in illegal conditions.
"There are animal protection laws in place to safeguard animals from the types of conditions at Farmers Inn—and we intend to make sure those laws are enforced," said Animal Legal Defense Fund Executive Director Stephen Wells. "We urge the owners to accept our offer of assistance so these animals can live out their lives in naturalistic sanctuary environments suitable for their species."
Photos, videos, and first-hand observations indicate animals at Farmers Inn are kept in filthy, small cages without sufficient protection from the heat and cold. Additionally, multiple animals appeared sick or injured including an emaciated goat and a kinkajou with a severely injured eye. Unsupervised patrons have been documented directly feeding the animals food that is inappropriate to their species, endangering both the animals and people.
The letter to Farmers Inn cites violations of the Endangered Species Act and Pennsylvania wildlife protection regulations that mandate the humane treatment of wild animals.
The global law firm of K&L Gates is providing pro bono assistance to the Animal Legal Defense Fund in this matter.
Copies of the letter are available upon request.
Related
Reward for information leading to the arrest and conviction of the person or people responsible for illegally shooting and killing a red wolf in Tyrrell County, North Carolina.

The lawsuit alleges federally endangered and threatened animals such as the tigers, lions, and ring-tailed lemurs are receiving inadequate care at Tiger Creek

Today the Delaware County district court granted a motion for contempt filed by the Animal Legal Defense Fund against Cricket Hollow Zoo and its owners, Pamela and Thomas Sellner, seeking the whereabouts of more than 100 animals who "disappeared" prior to a court-ordered rescue.