Congratulations to the 2019 Student Chapters of the Year!
Congratulations to the American University Washington College of Law and the Florida A&M University College of Law Student Chapters for winning the 2019 Animal Legal Defense Fund Student Chapter of the Year Awards!
These awards celebrate chapters that have shown amazing efforts in advancing the field of animal law. Animal Legal Defense Fund Student Chapters are a vital part of the growing animal law movement. Through their work on campus and in their communities, student chapter members show others that animal protection is a serious social justice issue. They are the future attorneys, legislators, and judges who will be influential advocates for changing the law to better protect animals.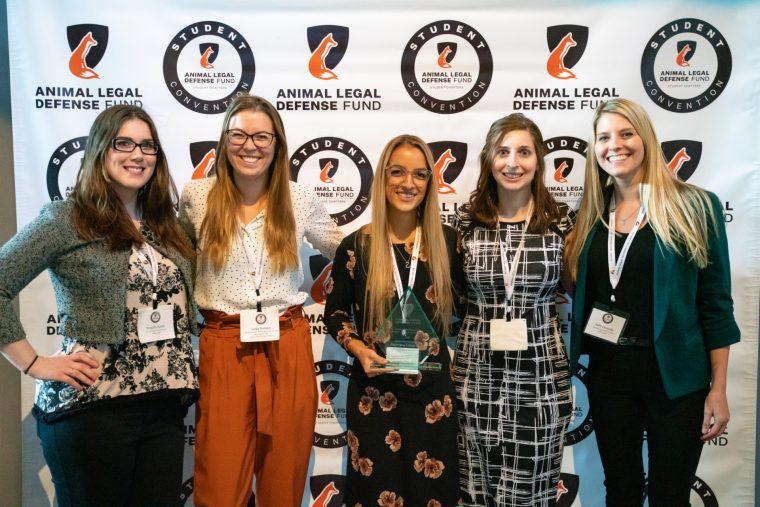 During the 2018-2019 school year, the American University Washington College of Law teamed up with the new organization Encompass to host a workshop on Racism in the Animal Rights Movement where activists discussed advancing diversity, equity, and inclusion within our movement to make it stronger. The chapter also held a symposium on how plastic pollution harms wild animals and the environment and held Animal Law Lunch and Learns, on topics ranging from how to lobby Congress to animal personhood.
The chapter was also active in its local community, volunteering at and raising funds for local farmed animal sanctuaries, and holding social events such as "yappy hours" (dog-friendly happy hours) and puppy hikes. For Animal Legal Defense Fund's Speak Out for Farmed Animals Week, the chapter tabled, convinced their school's Environmental Law Program to adopt a plant-based food policy, and got a vegan and vegetarian buffet added to their cafeteria (they're working on getting the Impossible and Beyond burgers added next!)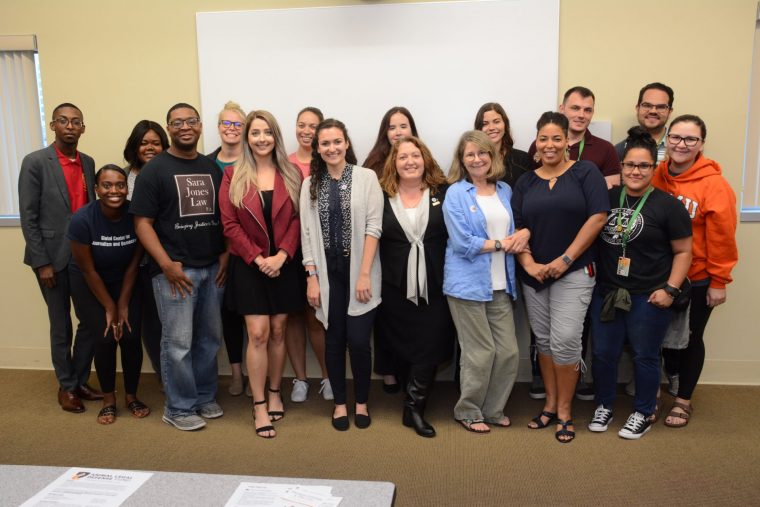 Over the last academic year, the Florida A&M University College of Law Student Chapter co-hosted a day-long CLE event in conjunction with their state bar Animal Law Section and the Animal Legal Defense Fund, successfully added an animal law course to their law school's curriculum, and screened films like Cowspiracy and Racing Extinction.
The chapter gave back to its community by participating in volunteer days at local animal sanctuaries for horses, farmed animals, and chimpanzees and raising funds for a local companion animal shelter. Chapter members helped to protect greyhounds by spearheading a campaign to register new voters and educate the public on Amendment 13 (which passed!) and will end greyhound racing in Florida. During the Animal Legal Defense Fund's National Justice for Animals Week, the chapter held an event each day in partnership with four other law student organizations on campus to showcase how animal law intersects with many other areas of law.
Thank you to the chapters that applied for this year's award and to all of our student chapters for your dedication to the animals!
Recent News
On March 23, 2023, Judge Julie Rubin of the federal district court in Maryland issued a decision, ruling that the United States Department of Agriculture (USDA) acted unlawfully by denying a petition for rulemaking to improve the standard for the psychological well-being of primates in research

Ag-Gag laws wrongly criminalize exposing animal cruelty. These unconstitutional laws are deliberate attempts to hide animal cruelty, food safety, workers' rights, and environmental violations from the American public. Voice your opposition to Ag-Gag laws by signing …

In this free webinar, we will walk you through the basics of how to pass a retail pet sale bans in your community — a powerful way to fight back against puppy mills.