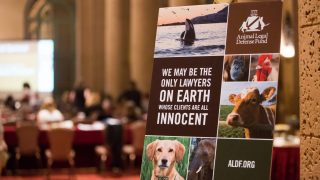 Animal Law Symposium 2017
Wildlife Rights and Protection in the 21st Century
On May 20, 2017 the Animal Legal Defense Fund hosted its third annual Animal Law Symposium in Los Angeles. This year's Symposium focused on wild animals and how to protect them when human activity increasingly runs counter to the interests of wildlife. The sold out event brought together law students, attorneys and experts, all interested in improving the lives of animals in our society.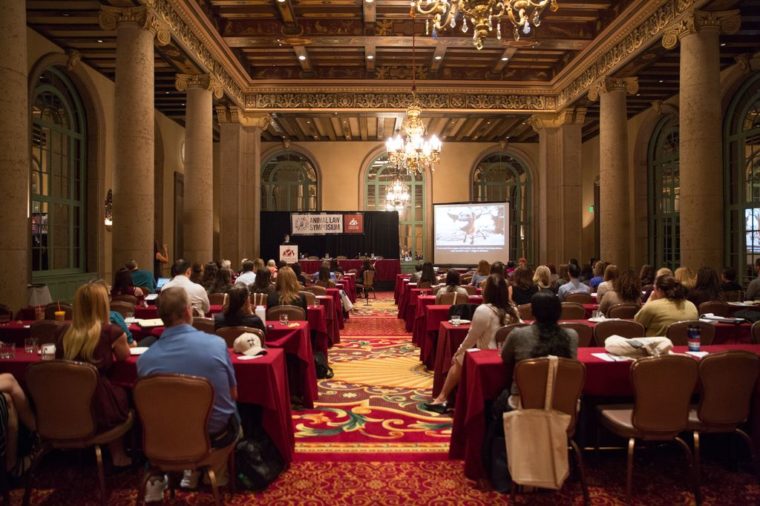 Panels discussed a variety of topics relating to wild animals and their place in society today ‑‑ from the current politics-driven model of "managing" wildlife by killing animals like coyotes and mountain lions to keeping wild species in captivity under the guise of "conservation"—to connecting the dots between animal agriculture and climate change. Finding solutions to these issues was also a focus for the expert panelists who shared ideas on developing a less human-centric and more compassionate approach to co-existing with other species as well as strategies that can be carried out through litigation, legislation, and regulations to help animals in those circumstances.
Keynote speaker Jo-Anne McArthur talked about her book and project, We Animals. For years, McArthur has photographed animals in the human environment to showcase how humans' interactions with animals can often be abusive with humans using animals as objects. She has photographed animals in more than 40 countries and those images have been featured in almost 100 campaigns to end the suffering of animals worldwide.
In between panels and during the reception following the day's events, attendees were able to network and exchange ideas on how to help wildlife in their own communities. Animal advocates and Animal Legal Defense Fund supporters journalist Jane Velez-Mitchell and actress Elaine Hendrix also attended the event.
We're grateful to all of this year's speakers, attendees and sponsors, Tatiana Freitas, Jane Unchained, RKD Alpha Dog, Beyond Meat, Aidikoff Law and an anonymous Animal Legal Defense Fund board member, for making this year's symposium such a success.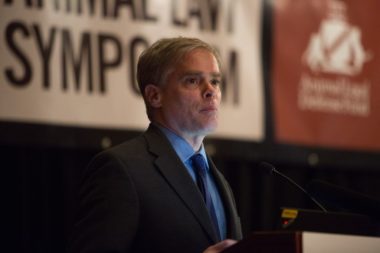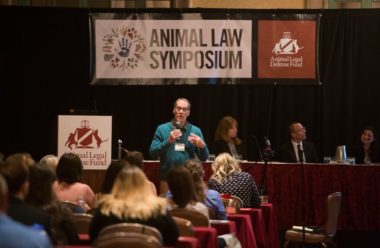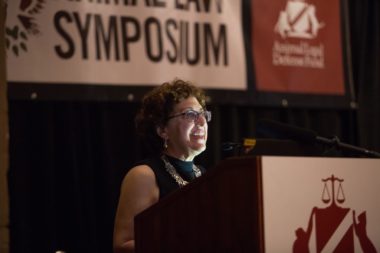 Sessions
Co-existing with Wildlife
Camilla Fox, Executive Director, Project Coyote
Damon Nagami, Senior Attorney and Director, Southern California Ecosystems Project, Natural Resources Defense Council
Jessica Blome, Contract Attorney, Animal Legal Defense Fund
Moderator: Kelsey Eberly, Staff Attorney, Animal Legal Defense Fund
The current approach to "managing" wildlife on the range, in which federal and state laws and regulators treat wild animals variously as "resources" and as burdens, has led to the slaughter of countless numbers in the name of "conservation" and to protect human investments in livestock grazing and development. This panel explores the science – or politics – of the current approach and the battles to bring the interests of wildlife and the maintenance of a healthy environment into balance.
Wild But Captive
David Casselman, Principal, Casselman Law Group, Founder of Cambodia Wildlife Sanctuary
Matthew Liebman, Director of Litigation, Animal Legal Defense Fund
Sara Wan, WAN Conservancy Co-Founder, Former Chair of California Coastal Commission
Moderator: Nicole Pallotta, Academic Outreach Manager, Animal Legal Defense Fund
Animals in captivity face a variety of problems, both physical and psychological, that animals in the wild do not. Putting aside the question of whether captivity for wild animals ever provides benefits, there are cases in which we know that animals in captivity are undoubtedly suffering. This panel will look at what we can do through litigation, legislation, and regulation to help alleviate the suffering of animals trapped in the worst captive environments.
Connecting Climate Change to Wildlife
Stephen Wells, Executive Director, Animal Legal Defense Fund
Carter Dillard, Senior Policy Advisor, Animal Legal Defense Fund
Hannah Connor, Staff Attorney, Center for Biological Diversity
Moderator: Joyce Tischler, Founder and General Counsel, Animal Legal Defense Fund
Animal agriculture is one of the leading causes of harm to wildlife through the industry's direct impact on climate change as well as habitat loss due to clear-cutting and competition for forage. Wildlife populations are losing critical habitat, and have fewer options for adaptation, as climate change impacts the environment. This panel looks at the connection between livestock, climate change, forage competition and wildlife, and considers various legal means to prevent the continued destruction to species and habitat.
Changing the Paradigm of Wildlife Protection
Mari Margil, Associate Director, Community Environmental Legal Defense Fund
Jeff Pierce, Contract Attorney, Animal Legal Defense Fund
Dan Rohlf, Professor of Law and Of Counsel at Earthrise Law Center at Lewis and Clark Law School
Moderator: Lindsay Larris, Los Angeles Regional Director, Animal Legal Defense Fund
Imagine moving away from the human-centric approach of exploiting wildlife for our benefit to a completely different regulatory mission and focus. This panel will explore how significant scientific research about the nature of animals and the cultural shift towards animal protection can modify the current paradigm into a framework that would focus on the rights and protection of wildlife. Additionally, the panel will explore legislative possibilities to codify this shift in public sentiment.
Keynote Speaker:
Jo-Anne McArthur, Photojournalist, Author and Educator, We Animals
Related
On Saturday, March 28, more than 150 attorneys, law students, and animal advocates came together to attend the first symposium of the Animal Legal Defense Fund's Los Angeles regional attorney network

Top legal experts weigh in at the Animal Legal Defense Fund's first-ever Los Angeles Animal Law Symposium.