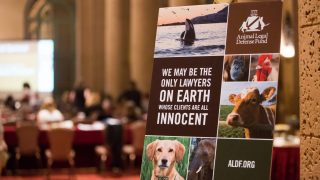 The Animal Legal Defense Fund hosts annual symposiums in varying cities across the country. Each event focuses on a specific animal issue and bring together law students, attorneys and experts, all interested in improving the lives of animals in our society.
Related
On May 20, 2017 the Animal Legal Defense Fund hosted its third annual Animal Law Symposium in Los Angeles.

On May 21, 2016 the Animal Legal Defense Fund gathered experts in criminal animal cruelty cases for our second-annual Los Angeles symposium, Animal Cruelty Prosecution: Pitfalls and Progress.

On Saturday, April 4, over 70 law students and animal advocates came together to attend the first symposium of the Student Animal Legal Defense Fund's (SALDF) Chicago regional network.