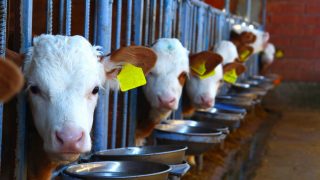 L.A. Law Event Blasts Animal Agriculture for Contributing to California Drought, Global Warming
Top Legal Experts Weigh in at ALDF's First-Ever Los Angeles Animal Law Symposium
For immediate release:
Contact:
media@aldf.org
LOS ANGELES — Next weekend, the national nonprofit Animal Legal Defense Fund (ALDF) will host its first-ever Los Angeles Animal Law Symposium in collaboration with the USC Gould School of Law. The hot-topic focus: factory farming (also known as CAFOs—"concentrated animal feeding operations") and its impact on animals, humans, and the environment.
The event brings together academic, law, and food industry experts to discuss how factory farming contributes to drought, climate change, animal cruelty, and environmental destruction. With the largest scale industrial dairy production in the nation, California's 70 million farmed animals produce as much untreated manure as 456 million people. In October, ALDF filed a first-of-its-kind rulemaking petition with the California Air Resources Board urging that greenhouse gas emissions from animal agriculture be included in the state's groundbreaking cap-and-trade program, like the energy and transportation sectors.
When: Saturday, March 28, 2015, 8:00am-8:00pm.
Where: All sessions take place in the Musick Law Building, Room 3, USC Gould School of Law.
Registration: open to the public until sold out. CLE credits for attorneys available.
Speakers include:
T.J. Tumasse, investigations manager for ALDF and former undercover investigator at factory farms and slaughterhouses, whose collection of evidence led to felony convictions for abusers.
Ethan Brown, co-founder of "Beyond Meat," a plant-based food company taking the meat-alternative market by storm, whose investors include Bill Gates, Biz Stone, and Seth Goldman.
David Simon, attorney and author of Meatonomics, the first book to add up the external costs imposed on taxpayers, animals, and the environment, by the animal food production industry.
Will Potter, investigative journalist, author, and TED fellow, whose 2014 Kickstarter campaign to purchase drones to investigate practices on factory farms was fully funded, almost overnight.
The event represents ALDF's expanding presence in the greater Los Angeles region, in which the nonprofit will host local events, provide legal support for local animal protection legislation, and support local prosecutors in putting animal abusers behind bars.
"California's factory farms are systematically responsible for cruelty to millions of animals, pollution of our natural resources, and dire health problems," said ALDF Executive Director Stephen Wells. "This cutting edge event brings together top legal minds to attack these issues through the legal system."
Related
The Animal Legal Defense Fund, in conjunction with other local and national groups, challenged the state of Oregon's approval of a water-pollution permit for Lost Valley Farm, a mega dairy.

World Oceans Day, June 8th, is a global day to honor, help protect, and conserve the world's oceans.

The Animal Legal Defense Fund is dismayed by the decision to withdraw from the Paris Agreement, the global plan to respond to and mitigate climate change.