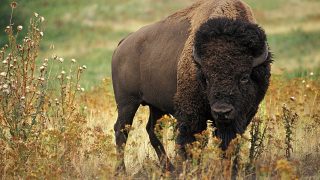 Speaker Bios
Animal Law Symposium: Oklahoma City
Cynthia Armstrong
Oklahoma Senior State Director, The Humane Society of the United States
Cynthia Armstrong joined HSUS in 2005. She previously served as campaign manager for the Oklahoma Coalition Against Cockfighting helping to enact a ban on cockfighting in Oklahoma. She has also served as president of the Oklahoma Humane Federation and Volunteers for Animal Welfare and as a board member of the Association of Certified Cruelty Investigators, the Central Oklahoma Humane Society and Blazes Tribute Equine Rescue. Most recently Armstrong served as campaign director for the Vote No on 777 state question campaign, helping to defeat a measure that would have provided constitutional protection to factory farms, puppy mills and animal fighting ventures. As the HSUS Oklahoma state director over the past 15 years, Cynthia has participated in many natural disaster deployments assisting authorities with the emergency care of displaced animals and has assisted Oklahoma law enforcement agencies with numerous animal cruelty cases providing direct assistance, hands-on care, transport and placement of the animal victims. She has been a leading spokesperson in Oklahoma on animal protection issues and has a long and successful track record as a lobbyist at the state capitol representing animal welfare interests. Armstrong is a native Oklahoman and holds a BFA from the University of Oklahoma and an MBA in finance from Golden Gate University in San Francisco.
Jamie Contreras
Senior Staff Attorney, Animal Legal Defense Fund
Jamie graduated from Lewis and Clark Law School in 2002, where she was a member of the Animal Law Review and received a certificate in Environmental Law. After graduation, she spent two years clerking for Judge Virginia Linder on the Oregon Court of Appeals. She then moved to the Oregon Department of Justice, where she worked for nearly 15 years, primarily in the Appellate Division. In her work at DOJ, she took a particular interest in criminal animal law cases and successfully represented the State of Oregon in two groundbreaking animal law cases before the Oregon Supreme Court —State v. Nix, where the court recognized animals as the victims of the crime of animal neglect, and State v. Newcomb, where the court recognized that the owner of a dog seized on suspicion of neglect had no protected privacy interest in the dog's blood. In December 2019, she followed her passion for protecting animals and joined ALDF as a Senior Staff Attorney for the Criminal Justice Program.
She shares her home with her husband and their family of six rescued animals: a pit bull who sleeps under the covers, two cats, and three parrots.
Chelsea Foreman
Assistant Shelter Director, Domestic Violence Intervention Services
Chelsea Foreman, MSW, has been the DVIS Assistant Shelter Director for 6 years. During that time, the DVIS shelter moved from a 50 bed facility to an 80 bed facility and Chelsea oversaw the addition of kennel space for the pets of survivors. Chelsea has run kennel operations and supervised the Kennel Technician/Client Support Specialist role since the addition of the kennel 5 years ago. Being a pet mom to 3 furry children (2 dogs and a cat), Chelsea has a special passion for serving survivors and their pets. This intersection of her passions has led her to involvement with the Oklahoma LINK coalition, presenting on the intersection of domestic violence, child abuse, and animal abuse at the 2018 State NASW conference, and partnerships with other shelters to support them in developing their own shelter kennel programs.
Heather Hintz
Director, Phillips Murrah P.C.
Heather L. Hintz is a Director of Phillips Murrah P.C., a full service law firm with offices in Oklahoma City, Oklahoma and Dallas, Texas. She represents privately-held and public companies, banks, municipalities, and charitable and animal-related organizations in litigation and business matters in state and federal district and appellate courts, and before arbitration tribunals.
In representing organizations from small to large for more than thirty years, Heather has given advice and handled a wide-range of litigation claims, including environmental matters such as toxic waste litigation, qui tam actions, broker-dealer litigation, breach of contract actions, title matters and real estate development disputes, and has both defended and challenged the constitutionality of a number of state statutes. Additionally, Heather has represented banks in prosecuting civil fraud and related claims under the Racketeering and Corrupt Organizations Act, with respect to a series of large commercial loans.
In her animal law practice, Heather has given advice to and managed litigation for humane, rescue and other animal-related organizations for over twenty years. She was part of the litigation team that successfully defended a signature challenge to Initiative Petition No. 365, which allowed Oklahoma State Question No. 687 to appear on the November 2002 ballot. Once passed, it amended the animal cruelty provisions in Title 21, Oklahoma Statutes, to ban cockfighting in the state.
Heather received a Bachelor of Arts in Economics with a concentration in Art from St. Olaf College and a Juris Doctorate from Vanderbilt University.
Kelly Levenda
Student Programs Attorney, Animal Legal Defense Fund
As Student Programs Attorney, Kelly manages the organization's student chapter program. She is a 2013 graduate of Lewis & Clark Law School in Portland, Oregon. During law school, she served as a Source Checker and Associate Editor of Animal Law Review, interned at the Animal Law Clinic, and was co-director of the school's Animal Legal Defense Fund Student Chapter. Kelly completed her bachelor's degree at University of Illinois where she studied Pre-Veterinary Animal Science.
Kelly has authored articles including Science-Based Farmed Animal Welfare Laws for the U.S., Legislation to Protect the Welfare of Fish, and Sensitizing Humans to Fish Sentience and co-authored Cruelty to Human and Nonhuman Animals in the Wild-Caught Fishing Industry. She is currently co-authoring the first textbook on Aquatic Animal Law with Kathy Hessler and Becky Jenkins.
Kelly lives in Oklahoma City with her partner and their three animal companions: cats, Mori and Ollie, and energetic border collie, Bernie.
Emily Lewis
Senior Staff Attorney, Animal Legal Defense Fund
Emily Lewis recently joined the Animal Legal Defense Fund as a Senior Staff Attorney in the Criminal Justice Program. Previously Emily was the Staff Attorney and Supervisor for the Investigations Department at the Oregon Humane Society. For almost a decade she managed the Investigations Department's criminal animal cruelty cases from citation through prosecution, while working as the department's liaison with district attorneys throughout the state. She also drafted bill language and presented testimony during legislative sessions in support of animal protection laws. She has years of experience in processing animal cruelty crime scenes and training industry professionals on evidence collection and documentation in animal cruelty cases. Emily received her Juris Doctor and Master of Studies in Environmental Law from Vermont Law School in South Royalton, Vermont. She currently lives in Portland, Oregon with her Great Dane, "Whiskey."
Louisa McCune
Executive Director, Kirkpatrick Foundation
Louisa McCune is the executive director of Kirkpatrick Foundation. She is on the board of directors of Animal Grantmakers, serving as 2020 president, and is a member of Philanthropy Southwest, slated to chair the 2021 annual conference. She is an advisory trustee to the Kirkpatrick Family Fund, Oklahoma Contemporary Arts Center, and Green Box Arts Festival. McCune is editor in chief and co-founder of ArtDesk, a member and co-founder of the Oklahoma Roundtable for Animal Welfare, and a member of Rotary Club of Oklahoma City, Club 29.
McCune is a past member of the American Society of Magazine Editors and has served on the boards of City Arts Center, the Oklahoma Center for Poets and Writers, the Oklahoma Music Hall of Fame and Museum, and Wilson Arts, Inc. She is a former committee member for the Thatcher Hoffman Smith prize and judge for the National Magazine Awards.
From 1997 to 2011, she served as editor in chief of Oklahoma Today. Under her guidance, the magazine won more than 250 national and state awards, including three SPJ Best Magazine awards and two Magazine of the Year awards from the International Regional Magazine Association.
Before returning to Oklahoma, McCune was a contributing editor for The American Benefactor and also worked at Worth, George, Harper's Magazine, Mirabella, and New York. In 1996, she was assistant editor on Fools for Scandal by Gene Lyons, published by Harper's and a former contributing editor to Green: The Magazine for Personal Finance. Her articles have appeared in National Geographic Traveler, Arthur Frommer's Budget Travel, Reader's Digest, Worth, the Oklahoman, OKC Business, Journal Record, OKC Pets Magazine, World Literature Today, and Zoo Sounds. Her essay, "Family Plots," appeared in Voices from the Heartland.
In 2003, McCune received the Bill Thurman Memorial Media in the Arts Award at the Oklahoma Governor's Arts Award. In 1999, she was named one of "Thirty Under 30" by the Magazine Publishers of America and Folio; in 2002, one of "Forty Under 40" Oklahoma City leaders by OKC Business; and in 2007, an Achiever Under 40 by the Journal Record. In 2013, she received the Pride of the Plainsmen award from Enid High School, and in 2014, she received the Community Service Award from the Dialogue Institute of the Southwest.
An Enid, Oklahoma, native, McCune graduated with a bachelor's degree from San Francisco State University in 1992. After college, she worked for Evergreen Helicopters in West Africa on a project to eradicate river blindness and then at the Enid News & Eagle as a general assignment feature writer. She received her pilot's license in 1993. In 2005, McCune founded the Sallie McFarland Rucks Reader Series at Wilson Elementary in Oklahoma City. Louisa has three sons, McCune, Rucks, and Edward.
Alicia Prygoski
Legislative Affairs Manager, Animal Legal Defense Fund
As Legislative Affairs Manager, Alicia Prygoski works to pass laws that help animals and defeat legislation that harms them.
Before joining the Animal Legal Defense Fund, Alicia worked as a public policy coordinator for farmed animal protection at the Humane Society of the United States and as a policy associate at the Animal Welfare Institute. At both organizations she worked to enhance protections for farmed animals across the country and contributed to passing a ballot initiative in Massachusetts and legislation in Rhode Island banning the extreme confinement of animals in factory farming operations.
Alicia has a Bachelor of Arts in Environmental Policy from the University of Michigan and a law degree from Western Michigan University-Cooley where she founded and ran the school's Animal Legal Defense Fund student chapter. In 2016 she received the Wanda A. Nash Award from the State Bar of Michigan Animal Law Section for advancing animal law in the state.
She now lives in Washington D.C. with her fiancé Luke and Patches, her five-year-old rescue dog who can't contain his excitement when meeting new people and other dogs.
Kathleen Romero
Coordinator, Oklahoma Link Coalition
Kathleen Romero came to the Coalition with experience in a variety of areas, including domestic violence, health and safety, and social science research, and had spent most of her career in the child welfare and child advocacy arena. The Coalition is the perfect marriage of social work and her lifelong love of animals.
Kathleen received her undergraduate degree from Colorado College and her master's degree in social work from the University of Oklahoma. She is passionate about genealogy, loves sewing and other crafting, and has been vegetarian for many years. Kathleen was raised in Norman, and lives there with her husband Brian and their two kitties, Delta and Eve.
Jim Roth
Law Dean, Oklahoma City University School of Law
Jim Roth is the thirteenth dean of Oklahoma City University School of Law. Dean Roth is an alumnus of OCU Law, earning his Juris Doctor degree in 1994. He also holds graduate certificates from Harvard University's Kennedy School of Government, the United States Air War College's National Security Forum at Maxwell Air Force Base, and the Institute of Public Utilities at Michigan State University.
Previously Dean Roth was a director at the Oklahoma City office of Phillips Murrah law firm, where he provided leadership to the firm's Natural Resources Department and Chairs the Clean Energy Practice Group. In addition, Dean Roth serves as President of A New Energy, LLC, an energy consultancy specializing in energy policy and energy developments throughout the region and United States, representing regional and national energy companies and Foundations.
He served as an Oklahoma Corporation Commissioner, by Appointment of Governor Brad Henry and prior to that appointment was elected to consecutive four-year terms as Oklahoma County Commissioner. He is a member of the Oklahoma, Kansas, and American Bar Associations and is a Past-President of the National Association of Civil County Attorneys.
Elizabeth Stoverink
Animal Advocate, Oklahoma Humane Society
Elizabeth Stoverink is the Animal Advocate, operating the Animal Advocacy Program, which is a collaboration between the Oklahoma Humane Society and Palomar, Oklahoma City's Family Justice Center. Elizabeth has worked in victim services since 2014, after she graduated from the University of Central Oklahoma with her Bachelor's degree after majoring in Sociology- Human Services. Elizabeth started her career with the YWCA working with sexual assault victims, and eventually becoming the Director of Sexual Assault Victim Advocacy. Elizabeth started with the Oklahoma Humane Society in late 2018 to create the Animal Advocacy Program to assist victims of domestic violence with their animals.
Daniel Waltz
Staff Attorney, Animal Legal Defense Fund
As staff attorney for the Animal Legal Defense Fund, Daniel Waltz develops creative legal strategies to advocate for improved welfare and increased protections for animals. Daniel first worked with the Animal Legal Defense Fund as a litigation fellow from 2012 to 2014 when he participated in Kuehl v. Sellner, which eventually set a legal precedent to protect endangered animals in captivity.
He then went on to spend two years at Georgetown University Law Center's environmental law clinic, and two years as a staff attorney at The Humane Society of the United States before returning to the litigation team where he first started.
He has a B.A. from Tufts University, J.D. from New York University School of Law, and LL.M in Advocacy from Georgetown University Law Center. He lives in Washington D.C. with his wife Casey, and Tippy, their special needs eight pound rescue dog. When he's not fighting to free animals from harm, Daniel likes to spend time outdoors playing ultimate Frisbee, hiking, or riding his bike with Tippy inside his backpack.
Related
Companion, farmed, and wild animals have been lost, injured, or killed during fireworks displays

The California Court of Appeals affirmed a ruling by a lower court recognizing Society for the Prevention of Animal Cruelty (SPCA) organizations' ability to file lawsuits against entities that violate existing animal protection laws.

Reward for information leading to the arrest and conviction of the person or people responsible for illegally shooting and killing a red wolf in Tyrrell County, North Carolina.