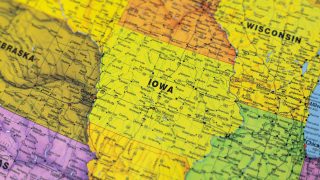 Iowa
Updates about legal issues facing animals in the state
The Animal Legal Defense Fund works at the federal, state and local levels to protect the lives and advance the interests of animals. This page is meant to be used as a resource to see what is happening in your state and what actions you can take for animals.
State Rankings
Each year, the Animal Legal Defense Fund publishes its U.S. State Animal Protection Laws Rankings Report. It is the longest-running and most authoritative of its kind, assessing the strength of each state's animal protection laws by examining over 3,400 pages of statutes. Each state is ranked based on 19 different categories of animal protection.
Iowa
Overall Rank: #38 (Bottom Tier)
+Court may order pre-conviction forfeiture of cruelly treated animals
-Has an ag-gag law
-No felony provisions for first time cruelty to animals (only fighting)
-No provisions for select non-animal-related agencies/professionals to report suspected animal abuse
-Limited definition of "animal"
Active Legislation
Active Cases

The Animal Legal Defense Fund filed a lawsuit alleging Cricket Hollow Zoo violates state public nuisance law by routinely mistreating hundreds of animals in violation of Iowa's animal cruelty laws.

In 2018, the Animal Legal Defense Fund asked the USDA to revoke Ruby Fur Farm's license, issue the maximum penalty allowable against the breeding facility for its violations, and stop purchasing animals from the facility for use in USDA research.
Recent Victories
Take Action
Take action now to help animals in your state.

HF 775 is aimed at criminalizing whistleblowing and undercover investigations in agricultural facilities, thus "gagging" activists and others who expose animal abuse in factory farms and slaughterhouses.