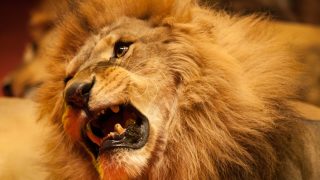 Protecting Animals Used in Circuses (Massachusetts)
An Act Relative to the Use of Elephants, Big Cats, Primates, and Bears in Traveling Exhibits and Shows (S.2197/S.2189/H.3245)
Prohibits the use of certain wild animals in circuses and traveling shows in Massachusetts.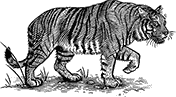 Captive Animals
Wild animals in circuses spend most of their days in cramped, barren cages, deprived of the ability to engage in their natural behaviors. Forced to perform frightening and sometimes painful tricks, they often endure a lifetime of misery.
An Act Relative to the Use of Elephants, Big Cats, Primates, Giraffes, and Bears in Traveling Exhibits and Shows (S.2197/S.2189/H.3245), known as the "Circus Bill," would prohibit the use of certain wild animals in circuses and traveling shows in the Commonwealth. It would not impact brick-and-mortar facilities.
Many wild animal exhibitors that perform in Massachusetts have histories of federal Animal Welfare Act violations and dangerous public safety incidents. The Commerford Zoo, for example, is a Connecticut-based traveling circus that frequently exhibits at Massachusetts' fairs and other venues, which has been cited more than 50 times for violations ranging from inadequate veterinary care to poor sanitation and where two elephants died in 2019. One of those elephants, Beulah, was an Asian elephant born in the wild in Myanmar in 1967, then imported to the U.S., and sold to the zoo before she was six years old. Just prior to Beulah's death in 2019, she was seen collapsing multiple times at the Big E in West Springfield, Massachusetts. Minnie, another Asian elephant, continues to be exploited by Commerford.
Already, eight states and nearly 150 other localities in 37 states have passed various restrictions governing the use of wild animals in circuses and traveling shows — including fourteen Massachusetts municipalities: Amherst, Braintree, Cambridge, Mendon, Northampton, Pittsfield, Plymouth, Provincetown, Quincy, Revere, Somerville, Topsfield, Weymouth, and Wilmington.
The Circus Bill is sponsored in the Senate by Senators Bruce Tarr (R-1st Essex and Middlesex) and Adam Gomez (D-Hampden) and in the House by Representatives Bradley H. Jones (R-20th Middlesex) and Carole Fiola (D-6th Bristol). It has been referred to the Joint Committee on Tourism, Arts and Cultural Development.
If you live in Massachusetts, please take action and urge your legislators to support this bill.
Rallying in Massachusetts for Wild Animals Exploited by Circuses and Traveling Shows
During the 2019-20 legislative session, animal advocates gathered in front of the Massachusetts State House along with the Animal Legal Defense Fund and other animal protection groups to rally for wild animals exploited by circuses in advance of a hearing on legislation to prohibit the use of certain wild animals in circuses and traveling shows.