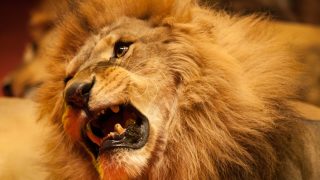 Protecting Animals Used in Circuses (Massachusetts)
Massachusetts Bill: H.2934/S. 2028
Elephants, big cats, primates, and bears are subjected to neglect, abusive training, prolonged confinement, and their use in circuses puts the public at risk. An Act Relative to the Use of Elephants, Big Cats, Primates, and Bears in Traveling Exhibits (H.2934 and S.2028), sponsored by State Representative Lori Ehrlich, and jointly, by State Senate Minority Leader Bruce Tarr and State Senator Welch, would prohibit the use of these animals in circuses and traveling shows in the Commonwealth.
Wild animals in circuses spend most of their days in cramped, barren cages, deprived of the ability to engage in their natural behaviors. Forced to perform frightening and sometimes painful tricks, they endure a lifetime of misery. Additionally, many wild animal exhibitors that perform in Massachusetts have histories of federal Animal Welfare Act violations and dangerous public safety incidents. For example, the Commerford Zoo, a Connecticut-based traveling circus where two elephants died in 2019, has been cited by the U.S. Department of Agriculture (USDA) more than 50 times for violations ranging from inadequate veterinary care to poor sanitation. The Commerford Zoo frequently exhibits at Massachusetts' fairs and other venues, underscoring the need for the Commonwealth to take action.
In response to these concerns, local and state governments are passing laws restricting or prohibiting the use of wild animals in circuses and traveling shows. Six states and nearly 150 other localities in 37 states have passed various restrictions governing the use of wild animals in circuses and traveling shows—including nine Massachusetts municipalities: Braintree, Cambridge, Quincy, Pittsfield, Plymouth, Provincetown, Revere, Somerville, Topsfield, and Weymouth.
If you live in Massachusetts, take action and urge your legislators to support this bill.