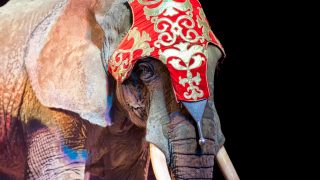 Massachusetts: Help Wild Animals Exploited by Circuses
This action is for Massachusetts residents only.
An Asian elephant named Beulah was exploited for decades by the Commerford Zoo, a Connecticut-based petting zoo and traveling show that also frequented Massachusetts. Just prior to Beulah's death in 2019, she was seen collapsing multiple times at the Big E in West Springfield, Massachusetts. Beulah is survived by her former companion, Minnie, an Asian elephant who continues to be exploited by Commerford.
Wild animals don't belong in circuses or traveling shows. They are typically subjected to neglect, abusive training, prolonged confinement, and their use in circuses puts the public at risk. It's not entertainment — it's cruelty. An Act Relative to the Use of Elephants, Big Cats, Primates, Giraffes, and Bears in Traveling Exhibits and Shows (S.2197/S.2189/H.32452) would prohibit the use of certain animals in circuses and traveling shows in Massachusetts.
Please help protect wild animals like Beluah and urge your Massachusetts state legislators to support this legislation.
Related
Numerous violations documented at the facility of inadequate animal care

The bill helps end the rampant abuse of tigers and other big cats in captivity by banning private possession

Graphic images of wound are posted on Tik-Tok by an employee of Gator Park — a facility owned and operated by Jason Clay.