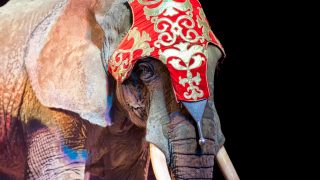 Massachusetts: Help Wild Animals Exploited by Circuses
This action is for Massachusetts residents only.
Beulah, an Asian elephant, was exploited for decades by the Commerford Zoo. Born in the wild in Myanmar in 1967 and imported to the U.S., Beulah was sold to the Connecticut-based traveling show and petting zoo, Commerford Zoo, before she was six years old. Just prior to her death in 2019, she was seen collapsing multiple times at the Big E in West Springfield, Massachusetts. Beulah is survived by her former companion, Minnie, an Asian elephant who continues to be exploited by Commerford.
Wild animals don't belong in circuses or traveling shows. They are typically subjected to neglect, abusive training, prolonged confinement, and their use in circuses puts the public at risk. It's not entertainment — it's cruelty. An Act Relative to the Use of Elephants, Big Cats, Primates, Giraffes, and Bears in Traveling Exhibits (HD 2035/SD 1246) would prohibit the use of certain animals in circuses and traveling shows in Massachusetts.
Please help protect wild animals like Beulah and urge your Massachusetts state legislators to co-sponsor HD 2035/SD 1246.
We are grateful to Representative Lori Ehrlich, Representative Bradley Jones, Senator Bruce Tarr, and Senator Adam Gomez for introducing this important legislation and to the legislators who have already co-sponsored it. A list of co-sponsors on SD 1246 and HD 2035 is available on the Massachusetts Legislature's website. If your legislator introduced or co-sponsored the bill, you can send them an email thanking them for their support. Enter your address to find your legislators.
You can send an email and/or call your legislators using the toggle buttons noted with the icons below. Phone calls have much more impact than emails. If you're able to make a phone call, please do so.
Related
The court's decision ensures Special Memories Zoo is permanently closed following Animal Legal Defense Fund lawsuit

For decades, Fischbacher, with his business partner Roy Horn, ran an infamous Las Vegas show that forced white tigers and lions to perform tricks in front of large audiences.

Representatives Mike Quigley (D-IL) and Brian Fitzpatrick (R-PA) reintroduced the Big Cat Public Safety Act in the U.S. House of Representatives. The House of Representatives voted 272 to 114 to pass the same bill in December.