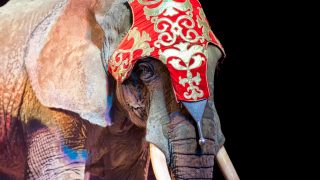 Massachusetts: Help Wild Animals Exploited by Circuses
This action is for Massachusetts residents only.
Beulah, an Asian elephant, was exploited for decades by the Commerford Zoo. Born in the wild in Myanmar in 1967 and imported to the U.S., Beulah was sold to the Connecticut-based traveling show and petting zoo, Commerford Zoo, before she was six years old. Just prior to her death in 2019, she was seen collapsing multiple times at the Big E in West Springfield, Massachusetts. Beulah is survived by her former companion, Minnie, an Asian elephant who continues to be exploited by Commerford.
Wild animals don't belong in circuses or traveling shows. They are typically subjected to neglect, abusive training, prolonged confinement, and their use in circuses puts the public at risk. It's not entertainment — it's cruelty. An Act Relative to the Use of Elephants, Big Cats, Primates, Giraffes, and Bears in Traveling Exhibits (H.3776/S.2251), filed by Representatives Lori Ehrlich and Bradley Jones as well as Senators Bruce Tarr and Adam Gomez, would prohibit the use of certain animals in circuses and traveling shows in Massachusetts.
Please help protect wild animals like Beluah and urge your Massachusetts state legislators to support this legislation.
Related
The Act has authority to protect federally endangered and threatened animals such as the tigers, lions, and ring-tailed lemurs enduring inadequate treatment at Tiger Creek

Today the Delaware County district court granted a motion for contempt filed by the Animal Legal Defense Fund against Cricket Hollow Zoo and its owners, Pamela and Thomas Sellner, seeking the whereabouts of more than 100 animals who "disappeared" prior to a court-ordered rescue.

The U.S. Department of Agriculture (USDA) has cancelled notorious wildlife exhibitor and trafficker Robert Sawmiller's license to engage in exhibition, breeding and selling activities regulated by the Animal Welfare Act (AWA) following the Animal Legal Defense Fund's lawsuit against the agency for initially renewing the license.