Using Local Legislation to Protect Animals
Presented 10/2/19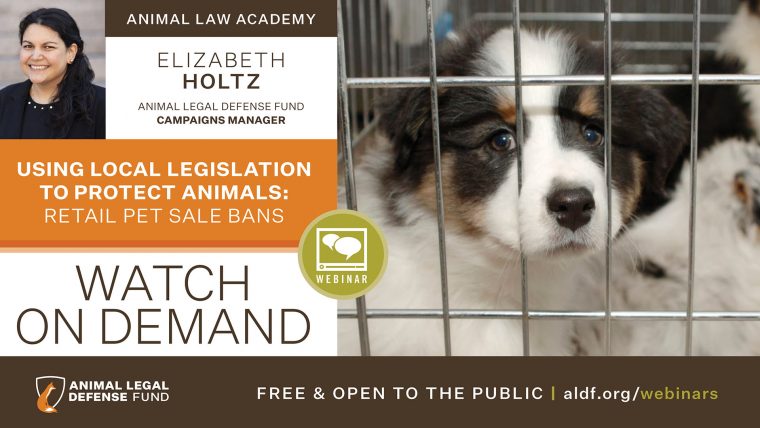 Want to take the next step in your animal advocacy? Learn the skills you need to pass laws protecting animals at the local level! Local laws are critical – not only do they help individual animals in your community but they prime the pump for passing similar laws at higher levels of government.
This webinar focuses on retail pet sale bans – laws that prohibit pet stores from selling puppies and kittens (and sometimes other animals like rabbits) who are commercially bred. Retail pet sale bans are a powerful way to fight back against puppy mills, and you could pass one in your own community!
Animal Legal Defense Fund Campaigns Manager Elizabeth Holtz will walk you through the steps to pass a ban in your city as well as share tips that can be applied to any local legislative campaign.
This webinar was pre-recorded. Watch it now!
The Animal Legal Defense Fund is here to help you enact a ban in your city or county! Review these resources to get started. Fill out the contact form on this page for further assistance.
Puppy mill operators maximize their profits by producing large numbers of puppies as quickly as possible. As a result, unsanitary conditions, disease, and neglect are rampant. Sign our pledge to boycott puppy mills. Together we can end cruel puppy mills.
Sign Petition
Related
Huston narrates the Animal Legal Defense Fund film demonstrating the impact legal advocates can have on behalf of animal cruelty victims

Class-action lawsuit alleges thousands in California purchased dogs under the false belief they were rescue animals

The Los Angeles Superior Court has granted a preliminary injunction that halts the Kenneys, unscrupulous internet puppy sellers, from advertising and selling puppies until the lawsuit is decided on the merits.