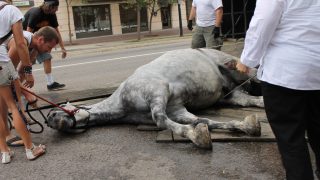 New York City: Protect NYC's Carriage Horses
THIS ACTION IS CLOSED.
The New York City Council is considering Intro 1425, the Carriage Horse Heat Relief Bill. Intro 1425 strengthens protections for carriage horses forced to work in extreme heat. We need your help to ensure this important bill is passed. Take action by (1) testifying in person at a June 18th hearing or emailing written testimony in support of Intro 1425 and (2) calling your New York City council member and urging them to support Intro 1425.
Carriage horses work day in and day out, rain or shine, on hot asphalt, often to the point of exhaustion. Intro 1425 strengthens protections for carriage horses forced to work during New York City's sweltering summers. Under the current rules, carriage horses must work until it is 90 degree Fahrenheit. But the temperature isn't always an accurate reflection of how hot it feels.
Intro 1425 takes into account the humidity and stops horses from working when the heat index or "real feel" is 90 degrees. The bill also updates the way that New York City agencies measure temperature and relative humidity – it would require city officials to use high-tech equipment like a hygrometer to ensure accurate readings.
Call Your Council Member
Enter your address to find your council member and their contact information.
When you call, you can use this sample script:
"Hi, my name is __, and I'm a constituent of (council member's name). I am calling to urge the council member to support Intro 1425, the Carriage Horse Heat Relief Bill. I strongly support increased protections for carriage horses."
If your council member is already sponsoring the bill, send them a quick thank you! (Find a list of sponsors below).
Testify at the June 18th Hearing
You can also support the Carriage Horse Heat Relief Bill by attending the hearing on June 18th or by emailing written testimony.
Date: June 18th, 10:00 AM
Location: New York City Hall
Directly across from 250 Broadway, New York, NY, 10007
Please line up outside City Hall on the Broadway side at 9:00 AM to ensure you gain entry. Attendees will have two minutes to speak at the hearing. If you would like assistance with drafting your testimony, please email Elizabeth Holtz at eholtz@aldf.org.
If you are unable to attend the hearing but would like to send testimony in support, please email the testimony to: Emily Balkan – Policy Analyst for the Committee on Health (ebalkan@council.nyc.gov) and Amy Slattery, Councilmember Levine's Legislative Director (aslattery@council.nyc.gov). Put "Support for Intro 1425" in the subject line of the email.
Intro 1425 Sponsors
Council Member Keith Powers, Council Member Helen K. Rosenthal, Council Member Donovan J. Richards, Council Member Fernando Cabrera, Council Member Robert F. Holden, Council Member Mark Levine, Council Member Margaret S. Chin, Council Member Diana Ayala, Council Member Mark Gjonaj, Council Member Paul A. Vallone, Council Member Justin L. Brannan, Council Member Kalman Yeger, Council Member Carlina Rivera, Council Member Antonio Reynoso, Council Member Ydanis A. Rodriguez, Council Member Laurie A. Combo, Council Member Karen Koslowitz, Council Member Adrienne E. Adams, Council Member, Brad S. Lander
THIS ACTION IS FOR NEW YORK CITY RESIDENTS ONLY.
Related
Animals rescued from backyard slaughter operation near Fort Meyers, Florida are now headed to sanctuaries.

Animal Legal Defense Fund and American Wild Horse Campaign continue work to ensure wild horses' safety

Reward for information leading to the arrest and conviction of the person or people responsible for the horses' deaths in Floyd County, Kentucky