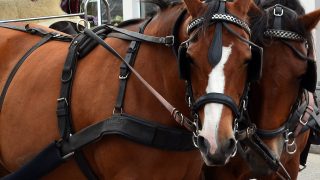 Protest of Inhumane St. Louis Horse Carriage Rides, on Anniversary of 'King' the Horse's Death
Animal Legal Defense Fund and St. Louis Animal Rights Team Continue to Put Pressure on City Officials
For immediate release:
Contact:
media@aldf.org
ST. LOUIS, MO — The St. Louis Animal Rights Team (START) promises twenty protesters—holding signs reading "King Died Giving Rides, Don't Get Taken for a Ride" and "RIP King"—at "Winter Wonderland" in Tilles Park, Wednesday, December 23, 2015 from 6:30 p.m. to 7:30 p.m. The protesters will join a candlelight vigil to commemorate the second anniversary of the death of King—a horse who died while giving carriage rides at St. Louis County's annual "Winter Wonderland" on December 23, 2013.
The protest follows the dismissal of a petition filed with the St. Louis City Court, requesting the court to force the St. Louis Metropolitan Taxicab Commission (MTC), and it's executive director Ronald Klien, to regulate the St. Louis horse-drawn carriage industry. The Animal Legal Defense Fund (ALDF) and START are appealing the decision.
MTC is accused of neglecting their responsibility to enforce regulatory requirements that include provisions for animal welfare, veterinary care, housing, and work restrictions for the horses.
King was owned by Eureka-based Brookdale Farms, which MTC had previously investigated after multiple complaints of neglect and malnourishment. A veterinarian sent by MTC in 2010 reported that all horses at Brookdale Farms were deprived of adequate food, and many were malnourished. Though an investigation of King's death was promised to the public in 2013, a Freedom of Information Act (FOIA) request revealed that no such investigation occurred. In fact, MTC mysteriously abandoned its enforcement responsibilities regarding carriage horses altogether later that year, spurring ALDF & START's lawsuit.
WHO: Twenty local residents and members of START
WHAT: Candlelight vigil for King the horse and a protest of continuing inhumane treatment, injuries, and deaths of carriage horses
WHEN: Wednesday, December 23, 2015 – 6:30 p.m. – 7:30 p.m.
WHERE: Tilles Park, St. Louis County
9551 Litzinger Road St. Louis, MO 63124
DAY-OF CONTACT NUMBER: 636-675-5383
Bonnie Boime with the St. Louis Animal Rights Team, will be available for interviews at the protest.
Animal Legal Defense Fund Attorney Jessica Blome is available for interviews via phone.
Related
The New York City Council is considering Intro 1425, the Carriage Horse Heat Relief Bill. Intro 1425 strengthens protections for carriage horses forced to work in extreme heat. We need your help to ensure this important bill is passed.

Animal Legal Defense Fund has appealed an Oregon state court's dismissal of a lawsuit filed by a horse named Justice against his abuser. Justice's lawsuit seeks to recover the costs of his ongoing medical care, his pain and suffering caused by the abuse.

This week the Farm Bill was approved by the U.S. House and Senate. The bill includes important provisions that will protect animals, and most importantly, does not contain the King amendment.