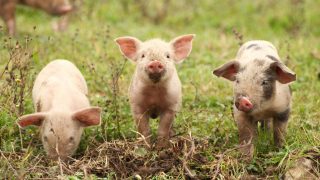 Spotlight: Allie Soileau
Allie Soileau is a 2022 recipient of the Animal Legal Defense Fund's Advancement in Animal Law Scholarship.
Allie Soileau is a 2022 recipient of the Animal Legal Defense Fund's Advancement in Animal Law Scholarship. This award honors students who demonstrate a commitment to the Animal Legal Defense Fund's mission: "to advance the interests and protect the lives of animals through the legal system." Recipients are actively involved in their Animal Legal Defense Fund Student Chapter while in law school and show promise in the field after graduation.
Allie Soileau is entering her third year of law school at the University of Houston Law Center, where she will serve as the president of her school's Animal Legal Defense Fund student chapter for the second year in a row. She is also a member of OUTLaw and the Student Bar Association.
What Animal Legal Defense Fund student chapter activities are you proudest of and why?
The Animal Legal Defense Fund student chapter activities I am proudest of are our speaker series this past year as well as our fundraising efforts for animals in Ukraine. Our events were limited this year due to the pandemic, but the move to virtual allowed us to have speakers from all over the country. My goal for the chapter this year was to give our members a comprehensive look at the world of animal law and the issues facing animals today, and we accomplished this goal through our speaker series. We had speakers from a variety of organizations including ALDF and covered a wide variety of topics such as factory farming, animals in entertainment, aquatic animal law, and big cat law. The most popular of our events was the talk on big cat law with Professor Carney Anne Nasser, a big cat expert and animal protection attorney who pitched the wildlife trafficking case that eventually took down "Tiger King" Joe Exotic. Many of our attendees were not even members of our chapter at the time but decided to join after this event! I am also very proud of our efforts to collect donations for the International Fund for Animal Welfare, which was accepting funds to aid in removing animals from Ukraine and to help secure supplies for animals that were trapped there.
Any other noteworthy experience?
Due to the pandemic, no rescues or shelters near us were accepting volunteers this year, and we were concerned that our members would not feel engaged with the chapter this year. However, we managed to put together a few fun events that helped keep engagement up! Our chapter partnered with the University of Colorado to screen a documentary called Hog Haven, which focused on a pig rescue in Colorado and the realities of running a rescue, especially during a pandemic. We were also able to host a virtual Q & A session with the filmmaker and the co-owners of Hog Haven, where we discussed how people view traditionally "farm" animals and how we could work to change that perception. Additionally, for Thanksgiving, we adopted a flock of turkeys at Farm Sanctuary and held a turkey pardoning where I gave a speech and we did a giveaway for members. I got many requests to make this a new tradition, so I think our chapter will be pardoning a flock of turkeys yearly from now on!
What is an animal law related goal of yours for the upcoming academic year?
An animal law related goal of mine for the upcoming year is to increase our chapter's volunteer and pro-bono presence in the Houston community as well as to host more events to get people interested in the organization and animal law. We are hopeful that this year we will be able to participate in more volunteer activities with local rescues and animal rights and protection organizations, and we have been reaching out to organizations like ALDF as well as the Houston Bar Association to see if there is any pro-bono work we can assist with. Additionally, I have many fun events planned for this year that we hope will get our members as well as other students more involved with animal rights and protection. For example, I am planning to do a doggy fashion show in conjunction with a local venue that will not only raise money for rescues and our organization but will draw attention to animal cruelty and the needs of local rescues. We are also looking into doing a "behind-the-scenes" look with the Houston Zoo to give our members an idea of the issues facing zoo animals and an idea of how an AZA accredited facility operates.
What are your plans/goals for post-graduation?
My goals post-graduation are to work as an animal rights attorney or even to get involved in the legislative side of animal protections, but my biggest goal is to move to the Pacific Northwest and work to protect aquatic animals in that region. While I want to protect any and all animals, I find many aquatic species to be overlooked or misunderstood. I have always been especially fond of aquatic (and reptilian) animals, and I would love to be able to assist in their protection. Regardless of what I do in my career, I also plan to be a mentor to my student chapter of ALDF and to help the new leadership fulfill their goals.
What is one piece of advice that you would like to pass on to other Animal Legal Defense Fund student chapter leaders?
One piece of advice I'd like to pass onto other Animal Legal Defense Fund chapter leaders is to reach out to anyone and everyone as you pursue your animal protection and welfare goals. You never know who you will be talking to, or who you will become connected to. This statement does have a dual meaning: anyone may be interested in animal law, and anyone may have contacts in animal law. Even if someone does not seem interested in animal law, you might help them discover a facet of it that speaks to them. Animal law is a very broad field, and there is something in it for everyone. To my second point, when I was looking for speakers for our speaker series, I reached out to everyone I knew and my old supervisor is the one who connected me with Professor Nasser as well as a few other speakers. If I had not reached out, I never would have known about the connections she had that allowed us to have such a wide variety of viewpoints in our speaker series.
Learn more about the other 2022 Advancement in Animal Law Scholarship winners.
Recent News
The gift of more than $1 million will fund the program over the next four years

An Act to Protect Animals From Convicted Animal Abusers (H.1703/S.1076) would prohibit a person convicted of certain animal cruelty crimes — including torture, mutilation, and dogfighting — from possessing, adopting, or fostering an animal for at least five years.

This action is for U.S. residents only.
Help animals win the legal protections they so desperately need and deserve, and ensure they have an advocate in courtrooms and legislatures across the country.
Take Action Now