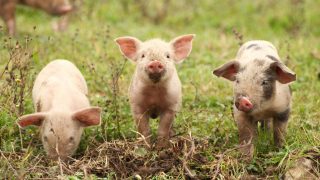 Spotlight: Alex Deherder
Alex Deherder is a 2022 recipient of the Animal Legal Defense Fund's Advancement in Animal Law Scholarship.
Alex Deherder is a 2022 recipient of the Animal Legal Defense Fund's Advancement in Animal Law Scholarship. This award honors students who demonstrate a commitment to the Animal Legal Defense Fund's mission: "to advance the interests and protect the lives of animals through the legal system." Recipients are actively involved in their Animal Legal Defense Fund Student Chapter while in law school and show promise in the field after graduation.
Alex Deherder is a rising 2L at the University of San Francisco School of Law. He was a 1L representative of his law school's Animal Legal Defense Fund student chapter and was part of the first-ever group of students to be admitted into USF's Animal Legal Scholar Program.
What Animal Legal Defense Fund student chapter activities are you proudest of and why?
Being a brand-new student organization on campus when classes returned in-person, we have not been able to host many events. However, it has been amazing collaborating with like-minded students on progressive ideas and topics to be covered at future SALDF events.
Any other noteworthy experience?
Our first general meeting as a brand-new club on campus had a great turnout. It was a lively atmosphere, filled with passion toward animal welfare and safety. Many students shared creative perspectives on animal issues and showed interest in USF's Animal Law course offerings and future SALDF events.
What is an animal law related goal of yours for the upcoming academic year?
Regarding the club, I hope to host different guest speakers addressing specific issues not widely talked about amongst the animal welfare community, such as ag-gag laws, marine animal welfare, and the use of animals for entertainment. For myself, I hope to continue to expand my network of professionals within the animal law field and continue to remain involved within the animal law community.
What are your plans/goals for post-graduation?
After I pass the bar, regardless of the field of law my career is in, I plan to stay involved in the animal law community. I intend to focus my work on legislative reform, including drafting new laws, and amending current laws to offer animals more statutory protections against mistreatment. I will continue doing extensive research on animal issues to gain a deeper understanding on all the ways animals are abused in this country, as well as how animal agriculture adversely affects the environment and marginalized communities. I have already spent over twelve years analyzing the intersection between humanity and animals and how that intersection should be centered around conservation, not exploitation. I also plan to stay involved with my ALDF student chapter and be a mentor to current members of the chapter.
What is one piece of advice that you would like to pass on to other Animal Legal Defense Fund student chapter leaders?
Look within and reach out to your local communities when brainstorming ideas for future events. It's a great way to get involved outside of campus and promote the mission of ALDF, and you may expose animal law to new people who know nothing about it!
Learn more about the other 2022 Advancement in Animal Law Scholarship winners.
Recent News
The gift of more than $1 million will fund the program over the next four years

An Act to Protect Animals From Convicted Animal Abusers (H.1703/S.1076) would prohibit a person convicted of certain animal cruelty crimes — including torture, mutilation, and dogfighting — from possessing, adopting, or fostering an animal for at least five years.

This action is for U.S. residents only.
Help animals win the legal protections they so desperately need and deserve, and ensure they have an advocate in courtrooms and legislatures across the country.
Take Action Now