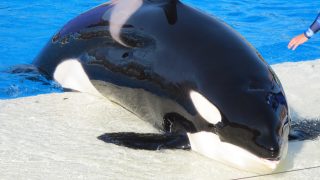 SeaWorld Announces Captive Orca Program to be Phased Out
Animal Legal Defense Fund Executive Director Stephen Wells Responds:
Though it is long overdue in the face of overwhelming evidence of harm to orcas in captivity and evolving public opinion, the Animal Legal Defense Fund applauds SeaWorld for its historic decision to phase out its inhumane captive orca program.
Thanks to our hundreds of thousands of supporters, the Animal Legal Defense Fund has been able to maintain immense legal pressure on SeaWorld and other "entertainment" providers, including circuses and roadside zoos, who inhumanely confine animals and deprive them of everything that is natural and important to them.
SeaWorld's historic announcement comes mere weeks before Ringling's final use of elephants in its traveling circus, and mere weeks after Animal Legal Defense Fund intervened to ensure the California Coastal Commission's permit conditions are upheld, that allow SeaWorld San Diego to expand only if it ends its captive breeding program.
These shifts reflect the growing public sentiment that entertainment is no justification for cruelty. The Animal Legal Defense Fund will continue to pursue creative legal strategies to liberate animals, including the remaining orcas in captivity. In February 2016 we won our first victory using the Endangered Species Act (ESA), freeing four tigers and three lemurs from a zoo in Iowa. And we are incredibly committed to our pending ESA based lawsuits on behalf of Lolita, the solitary orca at Miami Seaquarium, and Lucky, the solitary Asian elephant at San Antonio Zoo.
Related
Captured from her wild family as a juvenile, Lolita endured decades of inhumane conditions, spurring protests and numerous legal actions to help her.

U.S. District Court has ruled in favor of the Animal Legal Defense Fund following its lawsuit to vacate rules imposed by the U.S. Department of the Interior in 2019 under the Trump administration that weakened the Endangered Species Act (ESA).

Reward for information leading to the arrest and conviction of the person or people responsible for illegally shooting and killing a red wolf in Tyrrell County, North Carolina.