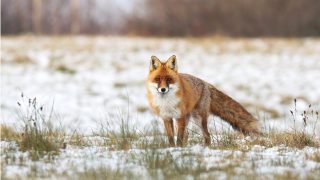 Rhode Island: Protect Animals Killed for Their Fur
This action is for Rhode Island residents only.
In Rhode Island, the Animal Fur Products Act (HB 7361) has been introduced, and would ban the sale of new fur products, including clothing and fashion accessories.
On fur farms, animals like foxes and minks are confined to tiny wire cages for virtually their entire lives. Unable to engage in most of their natural behaviors, these animals routinely resort to self-mutilation, obsessive pacing, and infanticide. Undercover investigations on fur farms have uncovered egregious cruelty — including animals being skinned alive.
You can help shut down the cruel fur industry! Using the form below, please send an email to your state Senator in support of HB 7361.
Related
International Fur Trade Federation agreed to dismiss its appeal, ending case in decisive victory for animals

International Fur Trade Federation's amended complaints dismissed in decisive victory for animals

For years, captive wild animals have suffered in the care of traveling zoo operator Robert Sawmiller. On December 9, 2020 two wolves and a Labrador named Fancy were rescued and transported to sanctuary through legal action brought by the Animal Legal Defense Fund.