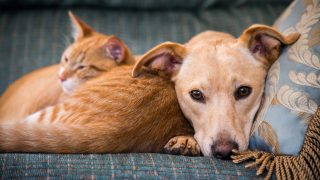 New Jersey: Ask Your Legislators to Enact a Law Mandating Reporting Suspected Abuse
This action is for New Jersey residents only.
Communication between government agencies is critical to helping ensure multiple forms of abuse — including animal abuse — is exposed and addressed. By mandating cross-reporting between groups like veterinary clinics and child protection agencies, we can help protect our most vulnerable populations.
Cross-reporting is a multi-disciplinary approach to reporting suspected abuse. Laws ensuring that agencies responsible for investigating various forms of abuse regularly communicate with one another, and report suspected abuse to the proper authorities, are crucial to protecting both humans and animals.
There is a strong link between animal cruelty and violence against humans — particularly child abuse and elder abuse. Effective cross-reporting policies and procedures can facilitate intervention by the proper authorities, benefiting both animals and humans, and clarify when and how to report suspected animal cruelty.
New Jersey bill A.4880/S.3168, sponsored by Assembly Members Benson, Dancer, Giblin, Verrelli, and Senator Gopal, would mandate veterinary and inter-agency reporting of suspected abuse.
Please email your state legislators urging them to support and co-sponsor this important bill.

Related
The Los Angeles Superior Court has granted a preliminary injunction that halts the Kenneys, unscrupulous internet puppy sellers, from advertising and selling puppies until the lawsuit is decided on the merits.

Animal Legal Defense Fund challenges the renewed license for the owner of Wildlife on Wheels after evidence has revealed ongoing violations for more than a decade

A Courtroom Animal Advocate Program (CAAP) bill, S.2868/A.4533, which would allow law students and volunteer lawyers to advocate for animal victims in cruelty criminal cases, unanimously passed the New Jersey Senate. The bill is sponsored by Senator Nicholas Scutari and Assemblyman Raj Mukherji and endorsed by the Animal Legal Defense Fund.