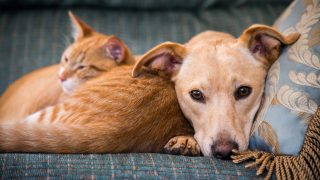 New Jersey: Ask Your Legislators to Enact a Law Mandating Reporting Suspected Abuse
This action is for New Jersey residents only.
Communication between government agencies is critical to helping ensure multiple forms of abuse — including animal abuse — is exposed and addressed. By mandating cross-reporting between groups like veterinary clinics and child protection agencies, we can help protect our most vulnerable populations.
Cross-reporting is a multi-disciplinary approach to reporting suspected abuse. Laws ensuring that agencies responsible for investigating various forms of abuse regularly communicate with one another, and report suspected abuse to the proper authorities, are crucial to protecting both humans and animals.
There is a strong link between animal cruelty and violence against humans — particularly child abuse and elder abuse. Effective cross-reporting policies and procedures can facilitate intervention by the proper authorities, benefiting both animals and humans, and clarify when and how to report suspected animal cruelty.
New Jersey bill A.4880/S.3168, sponsored by Assembly Members Benson, Dancer, Giblin, Verrelli, and Senator Gopal, would mandate veterinary and inter-agency reporting of suspected abuse.
Please call your state legislators, then send follow-up emails, urging them to support and co-sponsor this important bill.
Call your state legislators. If you're able to make a phone call, please do so as phone calls have a greater impact than emails. You can use this message: "As your constituent, I urge you to support and co-sponsor A.4880/S.3168 to mandate veterinary and inter-agency reporting of suspected abuse and protect our most vulnerable communities."
After calling, please send a follow-up email to your legislators using the form below. Personalizing your message will help it stand out.
Related
As the Animal Legal Defense Fund combats dogfighting by working with state officials to create stronger laws and more effective penalties for those who engage in this crime, we're also hard at work to ensure the best possible outcomes for dogfighting victims.

The Animal Legal Defense Fund, the nation's preeminent legal advocacy organization for animals, and Humane Rescue Alliance (HRA) are offering a $10,000 reward for information leading to the arrest and conviction of the person or people responsible for the abandonment and stabbing of a senior-aged dog named Ladybell on July 12, 2020.

Today the Animal Legal Defense Fund announced a settlement agreement with the West Virginia State Police, State Trooper Seth Cook, and Colonel C.R. "Jay" Smithers, in a lawsuit filed after Tiffanie Hupp intervened when Officer Cook drew his gun and aimed it at the family dog, Buddy.