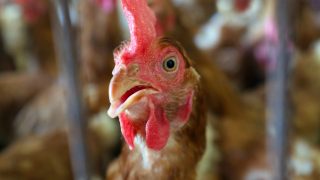 Missouri Passes Unconstitutional Law Restricting the Marketing of Alternative Meat Products
By Nicole Pallotta, Academic Outreach Manager
Missouri passed a law that prohibits many products — including plant-based and cellular meat — from identifying themselves as "meat." The new legislation, which became effective on August 28, 2018, carries criminal penalties of up to one year in prison and fines of up to $1,000.
Despite Missouri legislators' claims about consumer confusion, it's clear the law is designed to protect the animal agriculture industry from the growing demand for plant-based meat, and the coming market introduction of meat grown directly from cells without the need for raising and slaughtering animals.
On October 31, 2018, a coalition that includes the Animal Legal Defense Fund filed for a preliminary injunction to stop enforcement of this law, as part of a federal lawsuit filed in August to challenge its constitutionality.
Senate Bills 627 and 925 make it unlawful to "misrepresent" as "meat" a product that did not come from a slaughtered animal (amended language in bold):
"No person advertising, offering for sale or selling all or part of a carcass or food plan shall engage in any misleading or deceptive practices, including, but not limited to, any one or more of the following:
… Misrepresenting the cut, grade, brand or trade name, or weight or measure of any product, or misrepresenting a product as meat that is not derived from harvested production livestock[1] or poultry."
The new statute also adds "captive cervids," or members of the deer family, to the definition of "meat"[2] and "meat products." However, this part of the law is the subject of a separate legal challenge by the Missouri Conservation Commission,[3] and is currently on hold following a temporary injunction issued by the Cole County Circuit Court in September and renewed indefinitely in October.
Plant-based meats include familiar products like veggie burgers, vegetarian hot dogs, and tempeh bacon. "Slaughter-free" meat — sometimes referred to as "clean meat"— is created from animal cells in vitro. No animals need to be harmed or killed in the process of creating this product. Although clean meat is not yet available commercially, its development has attracted major investors and is being heralded as one of the most promising innovations on the horizon for animals, the environment, and human health.
On August 27, 2018, the Animal Legal Defense Fund, in coalition with Tofurky, the Good Food Institute, and the ACLU of Missouri, filed a federal lawsuit arguing Missouri's law is unconstitutional. We argued that:
"The Statute is a content-based, overbroad, and vague criminal law that prevents the sharing of truthful information and impedes competition by plant-based and clean-meat companies in the marketplace. The Statute does nothing to protect the public from potentially misleading information. As such, the Statute violates the Free Speech Clause of the First Amendment, the Dormant Commerce Clause, and the Due Process Clause."
Missouri's legislation – and proposed regulations submitted to the U.S. Department of Agriculture by the U.S. Cattlemen's Association in a petition – comes amid rising sales and increasing demand for plant-based, protein-rich products. Although animal agriculture representatives claim this law is needed to decrease consumer confusion, there is no evidence that shoppers are bewildered by plant-based meats, all of which list their ingredients and are marketed in compliance with current state and federal regulations.
Moreover, the term "meat" has never referred exclusively to slaughtered animals. The use of meat to refer to part of a nut or fruit is in common usage, including by the U.S. Food and Drug Administration (FDA), and does not confuse consumers.
Rather than consumer protection, the main driver of this legislation appears to be anxiety within the powerful and well-subsidized animal agriculture industry over rising demand for plant-based and slaughter-free meats. As this category has continued to gain traction – and market share – the animal agriculture industry has made multiple attempts to use the courts and legislatures to stave off competition, including "veggie libel" laws and the DAIRY PRIDE Act[4], introduced in 2017.
As noted in our complaint, the original text of SB 627 and 925 was drafted by the Missouri Cattlemen's Association, and the three lawmakers who introduced the statute have extensive ties to the animal agriculture industry. The National Cattlemen's Beef Association included among its five 2018 policy priorities, which is used to guide lobbying its efforts over the year, "protect our industry and consumers from fake meat and misleading labels." Drovers, an industry trade publication, reports that "five other states are looking to model similar legislation off the Missouri bill."
One of the bases of our lawsuit is that this legislation will put plant-based meat producers like Tofurky at a significant commercial disadvantage by forcing the company to change the packaging for its many products – either nationwide, or special packaging created just for Missouri.
As stated in our complaint, in order to avoid facing criminal prosecution, Tofurky would have to:
"Design, produce, and distribute different, specialized marketing and packaging for its products when they will be sold in the state of Missouri, creating a logistical nightmare in distribution channels that service neighboring states, or change the entirety of its marketing and packaging nationwide because of the Statute, at considerable expense, and causing confusion to its consumers… Other real market disadvantages exist as… retail chains that operate in Missouri and other states may be less likely to carry plant-based meat products… if they cannot do so in the same manner in all of their stores."
In addition to stifling plant-based companies, a second impetus of the law appears to be the groundbreaking emergence of slaughter-free meat, which is animal meat created without breeding, raising, and slaughtering animals in factory farms. A representative for the Missouri Cattlemen's Association, which backed the bill, told AP that organization's primary concern is "the emerging science of meat grown by culturing animal cells in a lab, and whether they'll disclose how they were made once they're on the market."
As reported by NPR, "despite the meat industry's anxiety, Americans are eating more animal meat than ever — the U.S. Department of Agriculture says the average American will eat just over 222 pounds this year, eclipsing a 2004 record."
But challenges to the industry's previously unchecked dominance loom. Along with the proliferation of plant-based products, the booming slaughter-free meat movement is poised to create major change in the food industry by providing a humane, safe, and sustainable alternative to traditional animal agriculture. Reflecting the shift that is already underway, the nation's largest meat company, Tyson Foods, has invested in both plant-based meats and cellular agriculture.
This lawsuit is part of the Animal Legal Defense Fund's ongoing efforts to fight restrictions on free and truthful speech in advertising and increase transparency in animal agriculture. In October 2018, the Animal Legal Defense Fund, Compassion Over Killing, and UCLA's Resnick Center for Food Law & Policy also submitted joint comments urging the FDA not to restrict labeling terms on plant-based dairy products as it reevaluates the "standards of identity" for products like milk and yogurt. We are also challenging Ag-Gag laws, which punish would-be whistleblowers and undercover activists for recording and disseminating footage of conditions on farms and in slaughterhouses.
Further Reading:
● Text of Senate Bills 627 and 925.
● Troitino, Christina. (August 31, 2018.) "Missouri Becomes First State To Start Regulating Meat Alternative Labels." Forbes.
● Sullivan, Emily Sullivan. (August 29, 2018.) "What's Meat, Anyway? Missouri Label Law Says It Comes From An Animal; Some Disagree." National Public Radio.
● Animal Legal Defense Fund. (August 27, 2018.) "Lawsuit Raises the Stakes in Food Fight Over the Term 'Meat." [Press Release.]
Footnotes
:
[1] "Livestock" is defined as: "cattle, calves, sheep, swine, ratite birds, including but not limited to, ostrich and emu, aquatic products…llamas, alpaca, buffalo, bison, elk documented as obtained from a legal source and not from the wild, goats, horses, other equine, honey bees, or rabbits raised in confinement for human consumption."
[2] "Meat" is defined as "any edible portion of livestock [or], poultry, or captive cervid carcass or part thereof."
[3] At issue in that lawsuit is whether captive deer are properly classified as wildlife subject to regulation by the Conservation Commission, or as livestock under the jurisdiction of the Department of Agriculture (a Missouri Supreme Court ruling in July 2018 found the former – deer are wildlife even when captive). According to the News Tribune, "The lawsuit argues the Legislature may not pass — and the Department of Agriculture may not enforce — laws that are inconsistent with the Conservation Commission's constitutional authority to regulate game and wildlife."
[4] "Defending Against Imitations and Replacements of Yogurt, Milk, and Cheese To Promote Regular Intake of Dairy Everyday Act."
Related
Last night, a coalition of organizations asked the court to immediately stop enforcement of a new Missouri law that prohibits "misrepresenting" a product as "meat" unless it comes from a slaughtered animal.

We need your help to defeat Senate Bill 627, House Bill 2607, and House Committee Bill 16 - a series of dangerous bills in the Missouri legislature.

Animal Legal Defense Fund filed a false claims lawsuit against Holden Farms. Allegations include violating federal and state laws banning "garbage feeding" and state animal cruelty law.