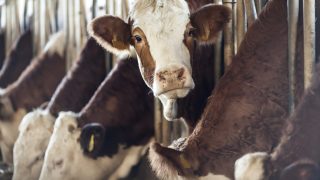 Coalition Urges Court to Stop Enforcement of Missouri's Unconstitutional Meat Advertising Law
Groups file for preliminary injunction to protect plant-based meat producers' First Amendment rights
Contact: Natalia Lima, nlima@aldf.org, 201 679 7088
Jefferson City, Mo. – Last night, a coalition of organizations asked the court to immediately stop enforcement of a new Missouri law that prohibits "misrepresenting" a product as "meat" unless it comes from a slaughtered animal. Under the law, Tofurky and other plant-based producers must either upend their entire marketing and packaging practices or risk criminal prosecution and jail time.
The coalition — including the Animal Legal Defense Fund, The Good Food Institute (GFI) and ACLU of Missouri — filed for a preliminary injunction in the Western District of Missouri. The move follows a lawsuit in August on behalf of plant-based meat corporation Tofurky and nonprofit organization GFI challenging the Missouri law's constitutionality. The lawsuit argues that the law violates Tofurky's and other plant-based meat producers' First Amendment right to free speech.
"More and more consumers are rejecting the animal agriculture industry — which relies on intense animal cruelty — in favor of plant-based alternatives," says Animal Legal Defense Fund Executive Director Stephen Wells. "But instead of responding to the demand for ethically produced products, certain players in the meat industry convinced a state legislature to criminalize truthful speech."
"The state of Missouri shouldn't criminalize speech in order to privilege one set of producers over another," says Good Food Institute Executive Director Bruce Friedrich. "The people of Missouri like free speech and free markets, and this law tramples on both. We're convinced that it will not stand."
"The government cannot restrict truthful speech," said Tony Rothert, legal director, ACLU of Missouri. "Everyone who cares about the Constitution should be concerned about that, regardless of what they put on their plate."
Related
Missouri legislators passed a law that will prohibit "misrepresenting" any product as "meat" if it does not come from a slaughtered animal, In a brazen attempt to stifle the growing grocery category of plant-based meat.

In an unpublished opinion issued December 20, 2018, the Ninth Circuit Court of Appeals affirmed the dismissal of a class action against Blue Diamond Growers. The lawsuit alleged that the company's almond milk products were mislabeled under FDA law.

Missouri passed a law that prohibits many products — including plant-based and cellular meat — from identifying themselves as "meat." The new legislation, which became effective on August 28, 2018, carries criminal penalties of prison time and fines.