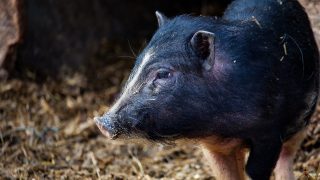 Tell Missouri Legislators to Support Humane and Healthy Plant-Based Producers
Update: This action is closed.
We need your help to defeat a series of dangerous bills in the Missouri legislature. Senate Bill 627, House Bill 2607, and House Committee Bill 16 are all designed to suppress the growing plant-based products industry by prohibiting these producers from using the term "meat" in their advertising.
Click here to oppose these bills.
Times are changing – as consumers become aware of the cruelty in the factory farm industry, they're incorporating humane alternatives like veggie burgers into their diets in lieu of traditional meats. These products account for more than three billion dollars in annual sales. But instead of responding to shifting consumer demands, the traditional meat industry wants to use the government to unfairly suppress competition. Unfortunately, some Missouri lawmakers agreed and are pushing legislation to give the factory farm industry preferential treatment over others.
Tell Missouri legislators to reject these pro-factory farm bills.
These bills aim to discourage people from choosing plant-based alternatives and protect the profits of cruel factory farms. Thank you for speaking out and telling Missouri legislators not to stifle competition from plant-based alternatives.
Related
Animal Legal Defense Fund's lawsuit alleged Hormel misleads consumers with its Natural Choice® brand of lunch meats and bacon

Meat and dairy alternatives can use common naming conventions in the state without fear of prosecution

Lawsuit asserts the law creates a patchwork of standards that threaten to preclude nationwide sales for plant-based meat producers