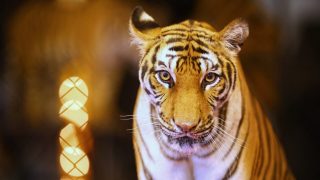 Massachusetts: Urge Your Legislators to Protect Animals Exploited by Circuses
THIS ACTION IS FOR MASSACHUSETTS RESIDENTS ONLY.
Elephants, big cats, primates, bears, and giraffes don't belong in circuses. They are subjected to neglect, abusive training, prolonged confinement, and their use in circuses puts the public at risk. It's not entertainment—it's cruelty.
Legislation in Massachusetts to end the exploitation of these animals in circuses and traveling acts has been released with a favorable report from the Joint Committee on Tourism, Arts, and Cultural Development.
To keep up the momentum, your legislators need to hear from you. Please contact your state representative and state senator urging them to support H.2934/S.2028, An Act Relative to the Use of Elephants, Big Cats, Primates, and Bears in Traveling Exhibits.
Related
The Animal Legal Defense Fund applauds the closure of the Greater Wynnewood Exotic Animal Park, the zoo depicted in the Netflix documentary, "Tiger King," following the U.S. Department of Agriculture's (USDA) suspension of its owner's exhibitor license.

After multiple lawsuits filed and fought by the Animal Legal Defense Fund, the Tiger Truck Stop has finally stopped exhibiting animals and tore down its cages. The Tiger Truck Stop, the infamous gas station in Gross Tete, Louisiana, held Tony — an endangered Siberian-Bengal tiger — from the age of 6-months until his death at the age of 17 in 2017.

Long-time Miami resident asks Senators Marco Rubio and Rick Scott to co-sponsor the Big Cat Public Safety Act