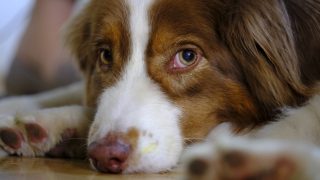 Massachusetts: Keep Animals Away from Abusers
This action is for Massachusetts residents only.
Post-conviction animal possession bans are one of the most effective ways to ensure a person convicted of animal cruelty does not reoffend. These laws restrict an abuser's access to animals, drastically limiting the pool of potential victims.
Current Massachusetts law prohibits offenders convicted of felony animal cruelty from working with animals. However, the law only explicitly allows courts to authorize an animal possession ban following a conviction of animal sexual abuse — not after other kinds of animal cruelty convictions. This bill would expand the applicability of animal possession bans to other serious animal cruelty crimes.
Pending legislation would prohibit a person convicted of serious animal cruelty crimes — including torture, mutilation, and dogfighting — from possessing, adopting, or fostering an animal for at least five years.
Help protect animals from convicted animal abusers. Please ask state legislators to co-sponsor An Act to Protect Animals From Convicted Animal Abusers (H.1703/S.1076).
Join the Animal Legal Defense Fund's email list to stay up to date on lawsuits, legislation, and regulations affecting animals.
Sign Up Now
Related
Animal Legal Defense Fund's amicus brief urges the court to review a case regarding the negligent death of a dog and the resulting emotional damages

Goldie's Act would ensure the USDA does its job to protect dogs in federally licensed puppy mills

Alternative sentencing program in Fulton County, Georgia pairs shelter dogs with criminal defendants to offer both training and a second chance