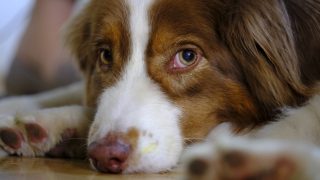 Massachusetts: Keep Animals Away from Abusers
This action is for Massachusetts residents only.
An Act Relative to Protecting Animals From Abusers (H.1824/S.1111) would prohibit a person convicted of certain animal cruelty crimes — including torture, mutilation, and dogfighting — from possessing, adopting, or fostering an animal for at least five years.
Current Massachusetts law prohibits offenders convicted of felony animal cruelty from working with animals. However, the law only explicitly allows courts to prohibit possession of, or other types of access to animals, after a conviction of animal sexual abuse — not after other kinds of animal cruelty convictions. This bill would expand the law to include other serious animal cruelty crimes.
Possession bans are one of the most effective ways to ensure a person convicted of animal cruelty does not reoffend. These laws restrict an abuser's access to animals, drastically limiting the pool of potential victims.
We are grateful to State Representatives Tram Nguyen and Bradford Hill and State Senator Mike Moore for introducing this important legislation.
Please call your state legislators, then send a follow-up email, urging them to co-sponsor An Act Relative to Protecting Animals From Abusers (H.1824/S.1111).
Call your state legislators. If you're able to make a phone call, please do so as phone calls have a greater impact than emails. You can use this message: "As your constituent, I urge you to support An Act Relative to Protecting Animals From Abusers, (H.1824/S.1111), and prohibit people convicted of animal cruelty from possessing animals for a set period of time."
After calling, please send a follow-up email to your state legislator using the form below. Personalizing your message will help it stand out.
Join the Animal Legal Defense Fund's email list to stay up to date on lawsuits, legislation, and regulations affecting animals.
Sign Up Now
Related
Animal Legal Defense Fund challenges the renewed license for the owner of Wildlife on Wheels after evidence has revealed ongoing violations for more than a decade

A Courtroom Animal Advocate Program (CAAP) bill, S.2868/A.4533, which would allow law students and volunteer lawyers to advocate for animal victims in cruelty criminal cases, unanimously passed the New Jersey Senate. The bill is sponsored by Senator Nicholas Scutari and Assemblyman Raj Mukherji and endorsed by the Animal Legal Defense Fund.

Breeding operation, Adorable Stars, sells parasite-ridden kittens suffering from severe and fatal ailments