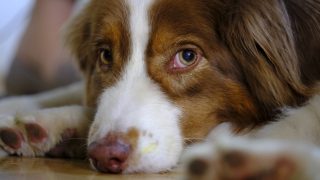 Massachusetts: Urge Your Legislators to Keep Animals Away From Convicted Abusers
This action is for Massachusetts residents only.
Current Massachusetts law only explicitly allows courts to prohibit owning or exercising control over animals after a conviction of animal sexual abuse.
Effective possession ban legislation – like An Act relative to the ownership of pets by convicted animal abusers (S.2494) would extend this existing prohibition to other animal cruelty convictions. Courts would have the discretion to consider each case individually and extend the possession ban beyond five years and to any greater length of time deemed reasonable to protect animals.
S.2494 was released with a favorable report by the Joint Committee on Judiciary as a redraft, based on  language filed by Representative Tram Nguyen (H.3772), Assistant Minority Leader of the House Brad Hill (H.1435), and Senator Dean Tran (S.1037). S.2494 has been referred to the Senate Committee on Ways and Means.
Please contact your state senator urging them to support the Possession Ban Bill (S.2494).
Join the Animal Legal Defense Fund's email list to stay up to date on lawsuits, legislation, and regulations affecting animals.
Sign Up Now
Related
As shelter-in-place orders are given across the nation, there is a growing concern that family violence will be on the rise.

The Animal Legal Defense Fund is offering advice on what you should prepare for your animals' care, should the primary caregivers of pets be unavailable.

The Animal Legal Defense Fund, the nation's leading legal advocacy organization for animals, has tips for how you can make sure your companion animals sail through even the worst weather winter has to offer.