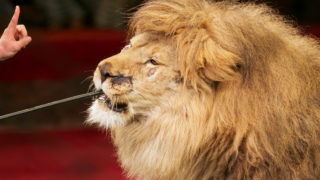 Massachusetts: Protect Elephants, Big Cats, Primates, and Bears from Exploitation in Circuses and Traveling Acts
THIS ACTION IS FOR MASSACHUSETTS RESIDENTS ONLY.
Beulah, an Asian elephant, died at the age of 54 in September. She endured years of misery, exploited for decades by the Commerford Zoo. Used in their traveling show and petting zoo, Beulah was forced to travel around New England, giving rides to people at the Big E, Topsfield Fair, and other venues.
The Massachusetts Legislature is currently considering a bill that would prohibit the use of elephants, big cats, primates, and bears in circuses and traveling shows. Your legislators need to hear from you – please call your state representative and state senator, then send follow-up emails, urging them to support H.2934/S.2028, An Act Relative to the Use of Elephants, Big Cats, Primates, and Bears in Traveling Exhibits.
Wild animals don't belong in circuses. They are subjected to neglect, abusive training, prolonged confinement, and their use in circuses puts the public at risk. It's not entertainment – it's cruelty.
Urge your legislators to protect animals like Beulah from a life of exploitation and support H.2934/S.2028.
And please join Stephanie Harris, Animal Legal Defense Fund Senior Legislative Affairs Manager, at the State House in Boston (24 Beacon Street) on Tuesday, October 22, to rally for animals used in circuses and then attend the public hearing. To RSVP or for more information, please contact Stephanie at sharris@aldf.org or 617-955-7500.
THIS ACTION IS FOR MASSACHUSETTS RESIDENTS ONLY.
Related
Lawsuit alleges the government has unlawfully weakened protections for threatened and endangered species

The Animal Legal Defense Fund is deeply saddened by the death of elephants Beulah and Karen and is committed to supporting legislation pending in Massachusetts to prohibit the use of elephants and certain other wild animals used in circuses.

Ask your state legislators to support a bill that would restrict the sale, trade, and distribution of ivory and rhino horn in the Massachusetts.