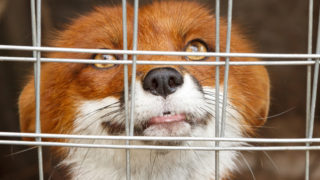 Massachusetts: Ask Your State Legislators to Ban Fur Sales
This action is for Massachusetts residents only.
Millions of animals are cruelly raised and killed for their fur every year. An Act Prohibiting the Sale of Fur Products (H.965/S.623) would ban the sale of new fur products, including clothing, fashion accessories, and home décor, throughout Massachusetts.
On fur farms, animals such as foxes and minks are typically confined to tiny wire cages for virtually their entire lives. Unable to engage in most of their natural behaviors, they routinely resort to self-mutilation, obsessive pacing, and infanticide. Undercover investigations on fur farms have brought to light egregious cruelty — including animals being skinned alive. Fur farms can also be breeding grounds for zoonotic diseases, as evidenced by the spread of COVID-19 on mink farms.
Numerous countries have already banned fur farming or the sale of fur products. In 2019, California became the first U.S. state to ban the sale of new fur products. In 2020 and 2021, Wellesley and Weston, Massachusetts, passed fur-free bylaws. An Act Prohibiting the Sale of Fur Products, introduced by Rep. Jack Patrick Lewis and Sen. John Velis, would make Massachusetts the second U.S. state to ban the sale of new fur products. Your voice is needed to help this bill become law!
Please use the form below to send a message to your state lawmakers, asking that they support this important bill and urge their Joint Committee on Environment, Natural Resources, and Agriculture colleagues to do the same. Personalizing your message can help it stand out!
Related
International Fur Trade Federation's amended complaints dismissed in decisive victory for animals

For years, captive wild animals have suffered in the care of traveling zoo operator Robert Sawmiller. On December 9, 2020 two wolves and a Labrador named Fancy were rescued and transported to sanctuary through legal action brought by the Animal Legal Defense Fund.

The Animal Legal Defense Fund — with the assistance of local counsel named Taylor Waters, U.S. Marshals, and the Auglaize County Sheriffs Office — executed a court order, seizing three animals from infamous wild and domestic animal breeder and broker Robert Sawmiller near Wapakoneta, Ohio.