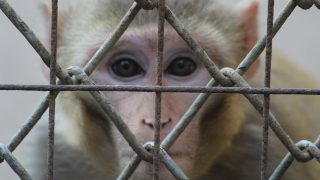 Lawsuit Challenges University of Wisconsin-Madison's Censorship of Controversial Primate Research on Instagram and Facebook Accounts
Animal Legal Defense Fund represents university's alumna and former primate research lab employee who is prohibited from engaging in protected speech on the university's public social media accounts.
Contact: media@aldf.org
MADISON, WI — Today, the Animal Legal Defense Fund filed a lawsuit on behalf of Madeline Krasno, a former employee of the University of Wisconsin-Madison's controversial primate research labs, who has been prevented from posting truthful comments on the university's otherwise public Instagram and Facebook posts because they are critical of the university's storied history of animal testing. Because UW-Madison is a public university, the complaint alleges the ban on Krasno's participation on its Instagram and Facebook posts violates Krasno's constitutional right to engage in protected speech.
As an animal lover, Krasno was inspired to study zoology at UW-Madison, with a goal of working in the field of primate conservation. Seeking hands-on experience with primates, she worked as a student caretaker for primates at the university's Harlow Center for Biological Psychology for approximately two years — an experience that exposed her to the harsh realities of animal testing.
While working with primates at the facility Krasno witnessed the subjects of the university's extensive animal testing. Krasno viewed firsthand a monkey who'd been subjected to an invasive cranial procedure that left an opening in his skull that was covered with a so-called "headcap," who shook his cage bars and reached out his hands to grab in vain at passing humans. She witnessed a mother monkey and her newborn who screamed as they were separated so the newborn could be branded, an infant monkey who died in Krasno's hands during a seizure, and a mother monkey who clutched her dead newborn for more than a full day until Krasno and a coworker were directed to separate her from the baby–a distressing experience that ended with the mother pressing her lips to the baby's head before retreating alone into a transport cage. Her reactions to the experiences she had at the facility led Krasno to later diagnosis with post-traumatic stress disorder.
Krasno feels compelled to share her firsthand experiences in order to advance the public discourse about animal testing and provide truthful information about what happens to primates in research labs. However, UW-Madison — a public university that receives significant federal and state government funding — has improperly restricted her ability to engage on its social media channels.
"I began to put my memories and feelings about my experiences at the lab into writing starting with a blog post and then using social media," says Krasno. "Seeing the University's efforts to keep my posts about the lab — and the inhumane ways the primates are treated while confined there — from being shown publicly revealed to me how it's even more critical that I share my experience if they are reacting in such a negative way."
"The limited visibility into research labs allows government funded animal experiments to continue in the dark without public oversight," says Animal Legal Defense Fund Executive Director Stephen Wells. "Whistleblowers have a right to share their first-hand experiences, so the public can intervene and comment on the way tax-dollars are spent."
The primate research conducted at UW-Madison's Harlow Lab and Wisconsin National Primate Research Center have long been the subject of controversy. In 2014, the Animal Legal Defense Fund filed a lawsuit over the university's failure to provide certain public records related to its inhumane and taxpayer-funded "maternal deprivation" tests, in which newborn monkeys were intentionally separated from their mothers to study the results on the newborns' psychological development. The Wisconsin Fourth District Court of Appeals ruled in 2017 that the university needed to disclose public records related to these taxpayer-funded experiments on infant monkeys. Most recently, in 2020, the United States Department of Agriculture (USDA) cited UW-Madison for serial Animal Welfare Act (AWA) violations, including improper handling resulting in at least 20 incidents of nonhuman primates requiring amputations of body parts such as hands, feet, digits, and tongues.
The Animal Legal Defense Fund and Krasno are further represented in this case by Joseph S. Goode, Mark M. Leitner, and Jessica L. Farley of Laffey, Leitner & Goode LLC in Milwaukee, Wisconsin.
Related
On March 23, 2023, Judge Julie Rubin of the federal district court in Maryland issued a decision, ruling that the United States Department of Agriculture (USDA) acted unlawfully by denying a petition for rulemaking to improve the standard for the psychological well-being of primates in research

Animal Legal Defense Fund files motion for summary judgement with damning evidence against the university

Today the Delaware County district court granted a motion for contempt filed by the Animal Legal Defense Fund against Cricket Hollow Zoo and its owners, Pamela and Thomas Sellner, seeking the whereabouts of more than 100 animals who "disappeared" prior to a court-ordered rescue.
Did you know an estimated 100 million animals are used in testing and research in the United States every year? Take a stand against animal testing by signing our cruelty-free pledge today.
Make the Pledge