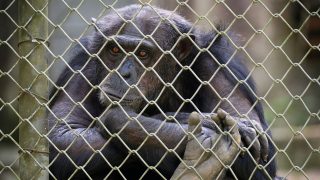 Lawsuit Filed Against USDA For Lack of Transparency into Inspection Process of Primate Research Facilities
USDA failed to issue a timely response following request for information about consistency and thoroughness of inspections
Contact: media@aldf.org
WASHINGTON, D.C. — Today, the Animal Legal Defense Fund and Rise for Animals filed a lawsuit against the United States Department of Agriculture (USDA) under the Freedom of Information Act (FOIA) for the agency's failure to respond to a request for public records related to the inconsistent inspection process of nonhuman primate research facilities accredited by the Association for Assessment and Accreditation of Laboratory Animal Care, a private advocacy organization for the research industry. The plaintiffs are represented by Harvard Law School's Animal Law and Policy Clinic.
The FOIA request for public records was sent to the Animal and Plant Health Inspection Service (APHIS) on July 17, 2020, following a lawsuit filed against the USDA in June 2020 focused on protecting primates used in biomedical research. The request became necessary after plaintiffs had reason to believe that APHIS informed its inspectors that they may choose which aspects of a particular facility they wish to inspect, allowing inspectors to ignore or disregard entire sections of the laboratory that impact the well-being of nonhuman primates.
"It's critical that nonhuman primate facilities are inspected rigorously to ensure that — if they are forced to be subjected to cruel experiments in a lab — their basic needs are met as mandated by law," says Animal Legal Defense Fund Executive Director Stephen Wells. "The prospect of industry-accredited facilities undergoing an incomplete inspection endangers the animals involved and keeps the public in the dark about their treatment."
"Even people who believe that animal experimentation is necessary support the wellbeing of those animals when they're not being used in experiments," said Rise for Animals Executive Director Nathan Herschler. "That we have to fight to ensure primates receive basic care through enrichment is outrageous."
Current enrichment regulations were last updated in 1991, when much less was known about the psychological needs of primates. These regulations defer to research facilities to develop their own enrichment plans and have been criticized by the USDA's own inspectors as vague and unenforceable. The regulations fall far short of what the National Institutes of Health (NIH) concluded was necessary to protect the psychological well-being of chimpanzees.
Related
Proposed rule would maintain an unnecessarily complicated and confusing process for children to get access to plant-based milk

Recommendations aim to decrease risk of zoonotic disease spread, animal escapes and attacks, and psychological and physical harm to the animals

Animal Legal Defense Fund petition for rulemaking spurs reporting improvements: Forms will be revised to ensure AWA licensees maintain complete records of all animal deaths.