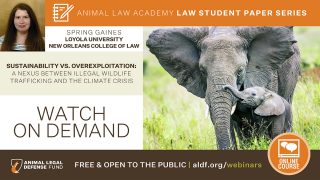 Law Student Paper Series — Sustainability vs. Overexploitation: A Nexus Between Illegal Wildlife Trafficking and the Climate Crisis
Presented 2/25/21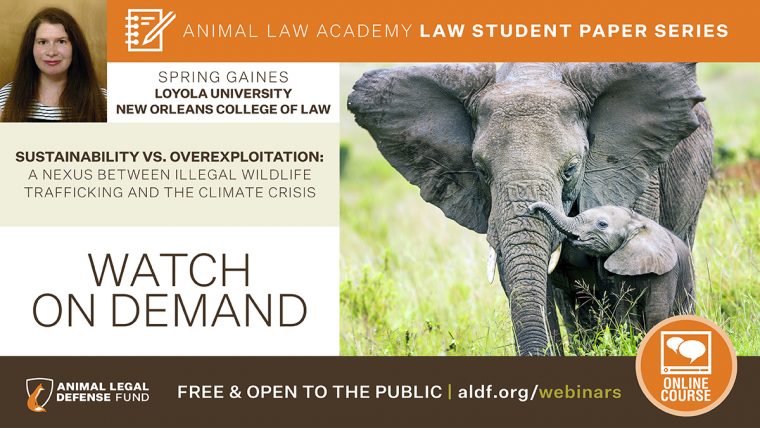 International and domestic legal communities have long understood the need to incorporate sustainable development into policy practices. Yet, the ongoing dual drivers of biodiversity loss — illegal wildlife trafficking and the climate crisis — show a critical failure in our policy systems. Join Spring A. Gaines, Loyola University New Orleans College of Law, as she discusses how national and international policies fail to implement the idea of sustainability into protecting ecosystems that are continuously overexploited to their own detriment, while exploring how this oversight impacts species in different parts of our natural world. A brief Q&A to follow.
This webinar has been pre-recorded. Watch it now!
Resources
Related
Edie Falco narrates the Animal Legal Defense Fund film demanding transparency in factory farming

D.C. Court of Appeals rules Animal Legal Defense Fund can pursue its claims

Animal Legal Defense Fund-led coalition wins major victory for animal protection, food and worker safety, and the First Amendment
Join the Animal Legal Defense Fund's email list to stay up to date on lawsuits, legislation, and regulations affecting animals.
Sign Up Now