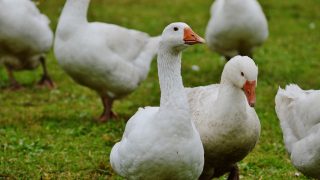 "Foie Gras" Legal Battle Continues; Appellate Court to Hear Arguments over Local Eatery's Violations
La Toque Restaurant Loses Motion in Trial Court After Illegally Selling Force-Fed Foie Gras
Contact: Natalia Lima, nlima@aldf.org, 201 679 7088
San Francisco, CA — Tomorrow, the Sonoma County-based national nonprofit Animal Legal Defense Fund heads back to court in their lawsuit against Napa's La Toque restaurant for selling force-fed foie gras in violation of California's ban.
Animal Legal Defense Fund's undercover investigations documented the Napa-based restaurant illegally selling foie gras in violation of California Health and Safety Code § 25982 while the ban was in place. Animal Legal Defense Fund alleges that La Toque tried to skirt the law by calling sales of banned foie gras "gifts." In 2013, Animal Legal Defense Fund defeated La Toque's claim that selling force-fed foie gras products was a free speech "protest."
The Napa County Superior Court denied La Toque's motion, agreed with Animal Legal Defense Fund that selling foie gras is not protected by First Amendment, and that serving it to paying customers constitutes a sale, not a gift. La Toque appealed the court's decision, which is the subject of tomorrow's hearing.
When: Thursday, January 22, 2015, 11:00 A.M.
Where: California Court of Appeal, First Appellate District, 350 McAllister Street, San Francisco, CA 94102.
Foie gras is made by force-feeding young ducks until their livers balloon eight or more times their natural size, then slaughtering them for these diseased livers. Evidence of force-fed ducks in Sonoma who were fattened so inhumanely they could not escape being eaten alive by rats in dark, filthy pens spurred the 2004 ban which went into effect in 2012.
Although a federal district court recently found the ban conflicts with a federal statute, Animal Legal Defense Fund is confident that decision will be reversed on appeal.
"La Toque's repeated law-breaking contributed to the suffering of hundreds of thousands of birds," said Stephen Wells, Animal Legal Defense Fund's executive director. "The court has recognized that La Toque sold illegal and cruel products, despite La Toque's absurd and arrogant claims, and we intend to ensure that those who violated this humane law are held accountable."
Related
The Animal Legal Defense Fund applauds Speaker Corey Johnson and the NYC Council for voting to end the sale of foie gras. Intro 1378, sponsored by Council Member Carlina Rivera, now moves to Mayor de Blasio, who is expected to sign the bill into law.

Restaurant Vows to Cease Foie Gras "Giveaways" Declared Illegal by Appellate Court.

Advocates for animals, free speech and the environment take on secrecy at factory farms following victories in Utah, Idaho, Wyoming and Iowa