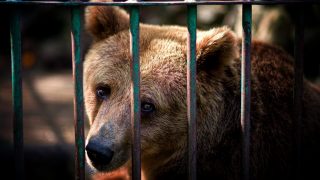 Court of Appeals Upholds Citizens' Right to Challenge Animal Cruelty
North Carolina Court Revives Lawsuit Against Inhumane Roadside Zoo
Contact: media@aldf.org
Raleigh, North Carolina. — The Court of Appeals of North Carolina held that the public can sue private zoos for cruelty to animals under North Carolina General Statute 19A. This decision reinforces the public's ability to protect animals through the legal system under 19A.
In April 2014, the national nonprofit Animal Legal Defense Fund (ALDF), with pro bono assistance from Winston & Strawn LLP, filed a lawsuit on behalf of local residents against the King Kong Zoo in Murphey, North Carolina. The lawsuit exposed the horrid conditions at King Kong Zoo, which has been repeatedly cited by state and federal regulators. King Kong Zoo, which recently shut its doors, confined wild animals in exhibits that were too small, too barren, and too poorly maintained to meet the basic biological needs of complex species such as chimpanzees, bears, and tigers. Renowned experts in veterinary medicine and animal behavior from Duke University, the University of Tennessee, and the San Diego Zoo have stated that these conditions amount to animal cruelty. Many animals at King Kong Zoo had untreated medical conditions and exhibited clear signs of physical distress and psychological desperation.
In August 2014, the trial court dismissed the case, holding that federal law preempts North Carolina's progressive civil animal cruelty statute, Chapter 19A, which allows for the public to sue to ensure the humane treatment of animals. But in today's opinion, the Court of Appeals disagreed and reversed the trial court, holding that the federal Animal Welfare Act does not preempt, but rather complements, state regulation of animal welfare.
"We applaud the Court of Appeals' decision, which reiterates the inherent and historic right of states to pass laws like Chapter 19A, to protect animals from cruelty," said Stephen Wells, executive director of the Animal Legal Defense Fund. "We look forward to continuing to fight to keep the King Kong Zoo and its owner from ever abusing another animal."
Copies of the opinion and the complaint are available upon request.
Related
Recommendations aim to decrease risk of zoonotic disease spread, animal escapes and attacks, and psychological and physical harm to the animals

The bill helps end the rampant abuse of tigers and other big cats in captivity by banning private possession

Graphic images of wound are posted on Tik-Tok by an employee of Gator Park — a facility owned and operated by Jason Clay.