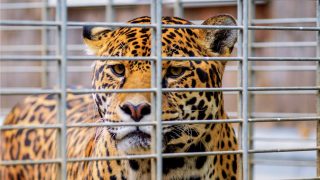 Connecticut: Help end cruel circus abuse
This action is for Connecticut residents only.
Legislation is pending to prohibit the use of wild animals in circuses in Connecticut.
Wild animals don't belong in circuses. They are subjected to neglect, abusive training, prolonged confinement, and their use in circuses puts the public at risk. It's not entertainment—it's cruelty.
Wild animals have complex behavioral, physical, and emotional needs that cannot be satisfied by traveling shows designed for human entertainment. They need your voice, today.
Please urge your state legislators to support An Act Concerning The Use Of Exotic Or Wild Animals In Traveling Animal Acts (SB 413), known as the "Circus Bill."
You can send an email and/or call your state legislators using the toggle buttons noted with the icons below. Phone calls have much more impact than emails. If you're able to make a phone call, please do so.
Related
Today the House of Representatives voted 272 to 114 to pass the Big Cat Public Safety Act. Endorsed by the Animal Legal Defense Fund, the bill prohibits the private ownership of big cats and makes it illegal for exhibitors to allow direct contact with cubs.

The Animal Legal Defense Fund applauds the closure of the Greater Wynnewood Exotic Animal Park, the zoo depicted in the Netflix documentary, "Tiger King," following the U.S. Department of Agriculture's (USDA) suspension of its owner's exhibitor license.

After multiple lawsuits filed and fought by the Animal Legal Defense Fund, the Tiger Truck Stop has finally stopped exhibiting animals and tore down its cages. The Tiger Truck Stop, the infamous gas station in Gross Tete, Louisiana, held Tony — an endangered Siberian-Bengal tiger — from the age of 6-months until his death at the age of 17 in 2017.