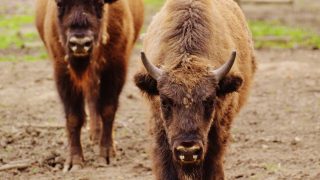 Central Illinois Wildlife Park Cancelled After Opposition by Neighbors and Animal Legal Defense Fund
"Arthur Zoo" Wildlife Park Withdraws Permit Application After Criticism
Contact: media@aldf.org
Arthur, Illinois — Today, the Arthur Zoo withdrew its permit application for a 45 acre wildlife park planned for Moultrie County, IL after the Animal Legal Defense Fund and neighboring landowners, represented by Urbana-based attorney Kent Follmer, strenuously opposed the plan.
James Aikman—who has no animal husbandry experience—proposed to open a drive-through roadside zoo where paying visitors could interact with animals as much as possible. Aikman reportedly planned to open the facility in 2016 with species such as bison, deer, llamas, camels, and eventually add larger predators to his inventory. The Animal Legal Defense Fund and local landowners opposed the plan due to concerns over public health and safety, animal welfare, and the impact on the surrounding environment.
In opposing the plan, Animal Legal Defense Fund cited numerous instances of attacks on humans after large predators escaped from zoos and wildlife parks, similar to the one planned for Moultrie County. The opposition also cited the inherent risks of exotic animal ownership that lead the American Bar Association, with its 400,000 attorney members who make it one of the largest professional associations in the world, to pass a resolution in February 2015 condemning the private ownership of exotic animals.
The resolution states in pertinent part that "the American Bar Association urges all federal, state, territorial, and local legislative bodies and/or governmental agencies to enact comprehensive laws that prohibit… the possession, breeding, import, sale, or transfer of dangerous wild animals…"
"The Animal Legal Defense Fund is pleased that there will not be a roadside zoo in Moultrie County," said Stephen Wells, executive director of the Animal Legal Defense Fund. "Forcing wild animals to live in unnatural captive settings puts severe stress on the animals and is dangerous for the public."
Animal Legal Defense Fund's letter to the Moultrie County Board is available by request.
Related
All animals from Jim Mack's Ice Cream shop, including alpacas, a llama, emus, peacocks, rabbits, chickens, goats, and a goose, were transferred to rescues.

If park service proceeds with cull, it will be under public scrutiny.

Journalist Chris Ketcham and bison advocate Stephany Seay will have their first day in court on Friday, February 5, when the United States District Court in Casper, Wyoming hears arguments for a preliminary injunction to halt the planned Yellowstone National Park bison cull.