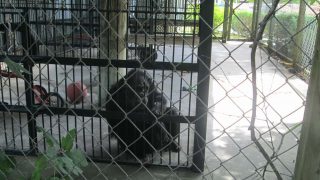 Candy the Chimp's Case is Over, But Our Fight for Captive Animals Goes On
In 2015, the Animal Legal Defense Fund filed a lawsuit under the Endangered Species Act against Sam Haynes Jr. and Dixie Landin' amusement park, located in Baton Rouge, Louisiana for holding Candy the Chimpanzee in inadequate conditions in a virtually barren concrete cage by herself for more than 40 years.
Tragically, Candy died in April at Dixie Landin' before we were able to win her release to a sanctuary, and the case has been dismissed.
We are deeply saddened by Candy's death, but will continue to fight in Candy's memory for other abused and exploited captive wild animals. Chimpanzees like Candy deserve the right to flourish in their natural environments, free from human-imposed suffering; the Animal Legal Defense Fund will continue to fight for legal recognition of that right.
Related
U.S. District Court has ruled in favor of the Animal Legal Defense Fund following its lawsuit to vacate rules imposed by the U.S. Department of the Interior in 2019 under the Trump administration that weakened the Endangered Species Act (ESA).

Reward for information leading to the arrest and conviction of the person or people responsible for illegally shooting and killing a red wolf in Tyrrell County, North Carolina.

The lawsuit alleges federally endangered and threatened animals such as the tigers, lions, and ring-tailed lemurs are receiving inadequate care at Tiger Creek