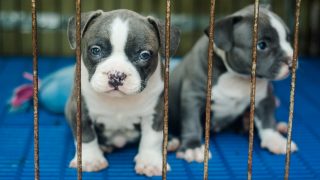 California: Stand up for companion animals today!
This action is for California residents only.
Predatory lending schemes prop up the inhumane puppy mill and kitten mill industries and often lead to financial hardship for borrowers. A proposed bill — A.B. 2380 — would prohibit lenders from offering consumer loans to borrowers for the purchase of a dog or cat if that loan is offered, arranged, or facilitated by a merchant or retailer.
Help protect companion animals by asking your state senator to support A.B. 2380 today!
Related
Animal Legal Defense Fund and Phoenix partner to expose dangers of this emerging industry gaining traction with considerable investments from government entities

The $25,000 scholarship and paid clerkship is available to first and second-year law students at Howard University School of Law, North Carolina Central University School of Law, and Florida A&M College of Law.

Seventh Circuit Court of Appeals reversed a lower court's decision determining the Animal Legal Defense Fund's lawsuit successfully furthers the purpose of the Endangered Species Act