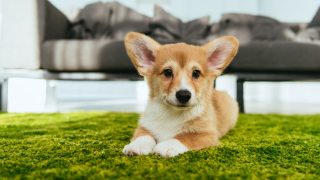 Strengthening the State's Retail Pet Sale Ban (California)
California Bill: AB 2152
Bella's Act, AB 2152, would strengthen California's retail pet sale ban and help ensure pet stores do not profit off animals bred in mills. The bill is authored by Assemblymember Todd Gloria and co-authored by Assemblymembers Richard Bloom, Tasha Boerner Horvath, David Chiu, and Marie Waldron.
In 2017, California became the first state in the nation to prohibit the retail sale of puppies, kittens, and rabbits, unless the animal comes from a rescue group or shelter. While this law has made great strides in reducing the number of animals sold in pet stores, unscrupulous retailers have continued to sell mill-bred animals through a legal loophole.
Because the sale of these animals is still legal under state law, some retailers are working with breeders who have created shell corporations and fake "rescues" with nonprofit status in order to continue sourcing commercially bred animals. The breeders transfer animals to these "rescues," which in turn send them to California stores to be sold.
For example, the San Diego Humane Society's investigations revealed that several stores in its jurisdiction are selling designer dog breeds for thousands of dollars through this puppy laundering scheme. Unsuspecting consumers are duped into thinking they are buying animals from rescue groups rather than mills. Due to exemptions in the "puppy lemon law"—a law that gives consumers some protections if they purchase a puppy who later becomes ill—these families have no legal recourse.
The bill is named in honor of a corgi named Bella who was bred in a puppy mill and later sold for thousands of dollars—her "adoption fee." Bella's Act would refine the existing law to crack down on animal laundering and end all retail sales of puppies, kittens, and rabbits. It's carefully crafted to ensure that stores may still partner with legitimate rescues and shelters to advertise and showcase animals in need of adoption. Accordingly, the bill requires that adoptable animals be spayed or neutered, and their adoption fee may not be more than $500 when displayed in pet stores.
Join the Animal Legal Defense Fund's email list to stay up to date on lawsuits, legislation, and regulations affecting animals.
Sign Up Now