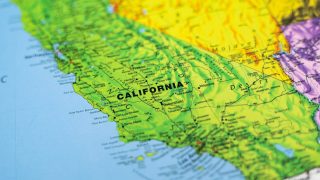 California
Updates about legal issues facing animals in the state
The Animal Legal Defense Fund works at the federal, state and local levels to protect the lives and advance the interests of animals. This page is meant to be used as a resource to see what is happening in your state and what actions you can take for animals.
State Rankings
Each year, the Animal Legal Defense Fund publishes its U.S. State Animal Protection Laws Rankings Report. It is the longest-running and most authoritative of its kind, assessing the strength of each state's animal protection laws by examining over 3,400 pages of statutes. Each state is ranked based on 20 different categories of animal protection.
California
Overall Rank: #9 (Top Tier)
+Animals may be included in protection orders
+Veterinarians must report suspected animal cruelty, and have immunity for doing so in good faith
+Mandatory post-conviction possession ban
-Seizure and pre-conviction forfeiture statute is not clear, and pre-conviction forfeiture is very limited
-Standards for minimum acceptable care for animals (e.g. necessary food, water, shelter) are not well-defined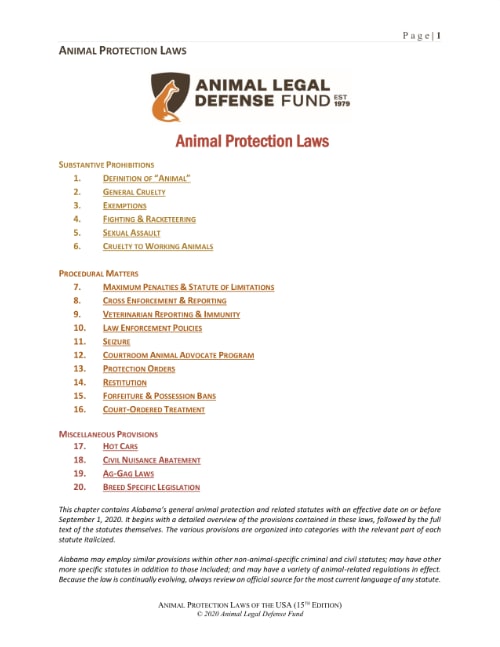 Animal Protection Laws of California
The Animal Protection Laws of California compendium contains the general animal protection and related statutes for California with an effective date on or before September 1, 2021.
Active Legislation

An act to add Section 22348 to the Financial Code, relating to consumer loans (A.B. 2380)
This California state bill prohibits the financing of purchases of dogs and cats, often used in the sale of animals bred in puppy or kitten mills and sold online.
Active Cases
Recent Victories
Take Action
Take action now to help animals in your state.

Contact your state senator to support California's cat declawing ban, AB 2606. California could become the next state to the painful surgical procedure in which all or part of the last bone in a cat's toes are amputated.

Urge Governor Newsom and CARB to stop allowing factory farms to exploit and profit from California's Low Carbon Fuel Standard.