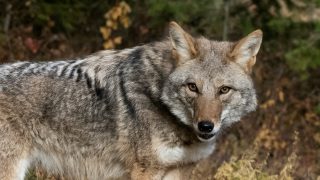 Ban on Wildlife Killing Contests Passed by New York Legislature
Animal Legal Defense Fund supported legislation heads to Gov. Hochul's desk
On June 21, the New York State Legislature passed a bill that ends inhumane wildlife killing contests, in which participants compete to kill categories of animals, including the most, the heaviest, and the smallest, for cash and prizes. The bill heads to the desk of Gov. Kathy Hochul.
Sponsored by Sen. Tim Kennedy, S.4099 passed by a vote of 46-15 on June 7, 2023. Its companion bill, A.2917, sponsored by Assemblymember Deborah Glick, passed by a vote of 86-54 on June 21, 2023.
A.2917/S.4099 is commonsense legislation to protect wildlife from needless and cruel killing contests. This bill enjoys the overwhelming support of New Yorkers, including animal and environmental advocates and even hunters.
"Most New Yorkers would be shocked to learn that dozens of horrific, unsporting contests take place each year in New York to kill the largest number of certain species of wildlife, or some other metric like the largest specimen," said Assemblymember Glick. "These killing contests encourage senseless brutality, and serve absolutely no scientifically backed ecological or conservation purpose. The wildlife of the state is a natural resource for all New Yorkers to enjoy, and to allow these cruel contests to incentivize wasteful killing for cash is an insult to nature."
In 2018 and 2020, undercover investigations exposed wildlife killing contests in New York, documenting bloody piles of dead foxes and coyotes to be weighed and counted for prizes. Competitors joked about the "thrill" of the kill and threw dead animals into a dumpster. More than 20 killing contests took place across the state in January and February 2023.
Gov. Hochul's approval would make New York the ninth state to outlaw these events, following California in 2014; Vermont in 2018; New Mexico, Arizona and Massachusetts in 2019; Colorado and Washington state in 2020; and Maryland in 2021. The Oregon Fish and Wildlife Commission is expected to vote on a statewide ban on killing contests in September 2023.
The Animal Legal Defense Fund is currently leading a coalition to pass another proposed wildlife killing contest bill, A.502 in the Assembly and S.2409 in the Senate, in neighboring New Jersey.
Join the Animal Legal Defense Fund's email list to stay up to date on lawsuits, legislation, and regulations affecting animals.
Sign Up Now
Related
This action is for U.S. residents only.

The victory follows the passage of a factory farming law and efforts to curtail the construction of new mega dairies in the state

Lawsuit filed by the Animal Legal Defense Fund and The Good Food Institute asserts that the law imposes unclear and vague standards on plant-based meat producers