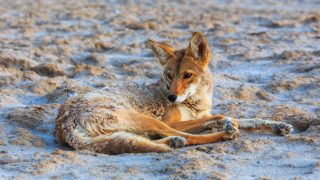 Animal Legal Defense Fund's Lawsuit Aims to Put an End to Coyote Killing Contest
Coyote Hunts Lack Necessary Permits and Threaten Public Safety and Natural Resources
UPDATE: The Sweetwater County judge did not rule on our motion for a temporary injunction prior to the Feb. 3-4, 2017 event, so the hunt took place as planned. But the fight is not over—in fact it has only just begun. The Animal Legal Defense Fund will continue working to permanently cancel this annual event in Sweetwater County.
Complaint Alleges the Contest is a Public Nuisance
Contact: media@aldf.org
Rock Springs, WY — Last week, the Animal Legal Defense Fund filed a complaint on behalf of a Wyoming resident in an attempt to stop an upcoming coyote-killing contest.
The "Wyoming Best of the Best" involves teams of hunters vying to kill as many coyotes as possible from sunup to sundown. Non-hunting participants place bets on the teams they think will kill the most coyotes. The complaint alleges the event constitutes a nuisance in the form of illegal gambling, since participants wager money and the outcome is based predominantly on chance. Illegal gambling is a violation of the state nuisance statute, designed to prevent activities that put the moral integrity and safety of the community at risk.
The Rock Springs event is scheduled for this coming weekend, February 3 – 4, 2017. The rules encourage people of all ages and experience to enter, including children.
Wyoming Best of the Best involves betting opportunities for most coyotes killed, biggest coyote killed, littlest coyote killed, a rifle raffle, and a Calcutta—a form of betting pool where participants pick winners, and the pool of funds is distributed according to a prearranged scale of percentages, to those who selected winners.
Hunting participants wager $50 per person for the chance to win cash prizes and advance to the state championship for killing the most coyotes. Teams may also wager an extra $20 per team to enter the "Big Dog/Little Dog" contests, for the chance to win extra cash prizes for killing the biggest and/or littlest coyote.
The killing contest is not regulated by any government agency, hunting licenses are not required in Wyoming to kill coyotes, and there is no limit on the number of coyotes a hunter may slaughter. The plaintiff worries the influx of hunters, whose goal is to win cash prizes for the indiscriminate and uncontrolled killing of coyotes, will negatively impact Sweetwater County's wildlife.
The contest also causes a serious disruption in the ecosystem leading to an unbalanced and unhealthy natural system. When coyote populations are disrupted by lethal means, younger pups have no adults to help them acquire food. This in turn causes many pups to prey on sheep and livestock. The disruption can also affect smaller predator populations by destabilizing entire ecosystems.
"Killing contests are simply blood sports," says Animal Legal Defense Fund Executive Director Stephen Wells. "They are completely inconsistent with appropriate conservation goals or effective wildlife management. Coyotes are essential members of healthy ecosystems, not targets to be killed for 'fun.'"
Related
For years, captive wild animals have suffered in the care of traveling zoo operator Robert Sawmiller. On December 9, 2020 two wolves and a Labrador named Fancy were rescued and transported to sanctuary through legal action brought by the Animal Legal Defense Fund.

The Animal Legal Defense Fund — with the assistance of local counsel named Taylor Waters, U.S. Marshals, and the Auglaize County Sheriffs Office — executed a court order, seizing three animals from infamous wild and domestic animal breeder and broker Robert Sawmiller near Wapakoneta, Ohio.

The Animal Legal Defense Fund, the nation's preeminent legal advocacy organization for animals, is offering a $5,000 reward for information leading to the arrest and conviction of the person or people responsible for illegally trapping a coyote in Essex County, Massachusetts.