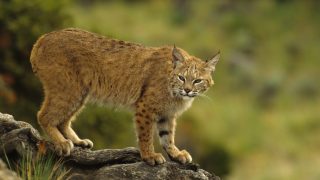 Animal Legal Defense Fund Urges Sonoma County to Void Contract with Federal Wildlife Services
Organization Points to Severe Cruelty and Dangerous Legal Violations in Agency's Kill Methods
Contact: media@aldf.org
Cotati, CA – Today, the national nonprofit Animal Legal Defense Fund sent a letter to the Sonoma County Board of Supervisors and Sonoma County Agriculture Commissioner, urging them to terminate their predator control contract with the U.S. Department of Agriculture's Wildlife Services ("Wildlife Services").
In addition, the letter asks that prior to further killing of wildlife by Wildlife Services, appropriate environmental review and resource allocation be undertaken, according to California state law. The Board of Supervisors was scheduled to decide at its meeting on Tuesday, May 21 in Santa Rosa whether to renew their contract for the fiscal year 2013-2014, but on May 20 the meeting was cancelled.
Every year in Sonoma County, Wildlife Services kills hundreds of large predators like mountain lions, bobcats, and coyotes. Indiscriminate methods used by Wildlife Services have killed over 50,000 non-targeted animals in the U.S. in just over a decade. The agency regularly deploys cage, steel-jaw, and "Conibear" traps and wire snares, which maim and trap animals who may take several days to die. These devices have injured hikers and killed pets, not only in wilderness or rural areas, but often in populated suburban landscapes.
California state law has banned many of these methods, including cyanide and leg-hold traps and the use of dogs to hunt predators. Unlike Sonoma County, neighboring Marin County does not employ Wildlife Services for predatory animal control. Instead, Marin uses a non-lethal program that has allowed some ranchers to see predation-losses decrease by over 60%.
Wildlife Services has received public scrutiny recently, when Wildlife Specialist Jamie P. Olson posted pictures on Twitter of his hunting dogs mauling a coyote caught in a leg-hold trap while on duty.
Another Wildlife Services employee, Russell Files, was recently arrested and charged with animal cruelty for intentionally capturing his neighbor's dog–while on duty–in multiple leg-hold traps. Since 2000, Wildlife Services has targeted and killed nearly one million coyotes and thousands of other predators including black bears, bobcats, foxes, and badgers in the U.S.
"The recklessly cruel and ineffective methods used by the USDA's Wildlife Services do not reflect Sonoma County's concern for its wildlife, ecosystems, and habitats," said Stephen Wells, executive director of Animal Legal Defense Fund. "Wildlife Services' disregard for wildlife and ecosystems shows the agency is not accountable to the citizens of California, and we believe Californians deserve better."
An Animal Legal Defense Fund representative will be in attendance at Tuesday's Board meeting and will be available to answer questions. A copy of Animal Legal Defense Fund's letter is available upon request. Animal Legal Defense Fund was founded in 1979 with the unique mission of protecting the lives and advancing the interests of animals through the legal system. For more information, please visit aldf.org.
Related
Superior Court Judge Lydia Villarreal found in favor of a coalition of wildlife protection groups, including the Animal Legal Defense Fund, in its challenge to Monterey County, California's contract renewal with the USDA.

County violated California Environmental Quality Act

It's time for Wildlife Services to either retire its program entirely or otherwise rely on science-based methods that take the well-being of animals and the environment into account.