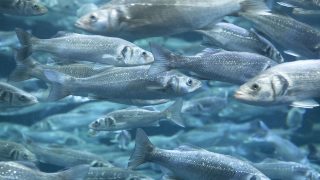 Animal Legal Defense Fund Urges FDA for Clear Regulatory Guidance on Labeling of Cell-Cultured Fish and Shellfish Products
The FDA will develop joint principles pertaining to the labeling of foods comprising or containing cultured cells from sea life
Contact: media@aldf.org
SAN FRANCISCO — This week the Animal Legal Defense Fund submitted comments to the U.S. Food and Drug Administration (FDA) advocating for accurate, consistent, and flexible labeling of cell-cultured fish and shellfish products — meat or flesh grown from the cells of fresh or saltwater finfish, crustaceans, and other forms of aquatic animal life — to ensure that food producers have a fair, clear, and uniform regulatory guidance and the right to use traditional and familiar naming conventions, such as "shrimp", to avoid confusing consumers. The comments were submitted as the agency seeks input to inform its next steps on standards for labeling foods comprised of or containing cultured cells from sea life while new products are entering the market and others are in development.
Producers add nutrients like salts and sugars to cultured fish and shellfish cells, which grow into muscle, fat, and other tissues to form a product indistinguishable on a cellular level from animals and crustaceans raised or caught and killed. Preventing these innovative and sustainable products from using the same statements of identity as slaughtered products would be inaccurate and even endanger consumers with allergies.
"As cell-cultured fish and shellfish becomes more popular, it is imperative that the FDA does not favor established producers' interests — who rely on catching and killing — at the expense of innovation and consumer choice," says Animal Legal Defense Fund Executive Director Stephen Wells. "The Animal Legal Defense Fund continues to challenge meat labeling censorship laws and initiatives that aim to confuse consumers, and advocates for clear standards in cell-cultured food products."
The current demand for meat, including fish and shellfish, is unsustainable without using cell culture technology to produce products. This transformative innovation promises to end the suffering endured by billions of aquatic animals and the catastrophic environmental impacts of aquaculture and fishing, while simultaneously strengthening the safety and resilience of the U.S. food system.
Related
Animal Legal Defense Fund's lawsuit alleged Hormel misleads consumers with its Natural Choice® brand of lunch meats and bacon

Meat and dairy alternatives can use common naming conventions in the state without fear of prosecution

Lawsuit asserts the law creates a patchwork of standards that threaten to preclude nationwide sales for plant-based meat producers