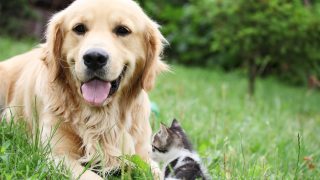 Animal Legal Defense Fund Named Best Law Website in the 23rd Annual Webby Awards
The 2019 People's Vote shows overwhelming support for the Animal Legal Defense Fund's new website
Contact: media@aldf.org
San Francisco, CA – The Animal Legal Defense Fund, the nation's preeminent legal advocacy organization for animals, is honored to have won the People's Voice award for Best Law Website in the 23rd annual Webby Awards.
Recognized as the "internet's highest honor" by the New York Times, more than 13,000 entries spanning 70 countries were considered for Webby Awards this year. Fewer than 10 percent were chosen as nominees. Winners rank within the top 4 percent of contenders.
"The Animal Legal Defense Fund is thrilled to be acknowledged by the Webbys for our new website, launched in July of 2018," says Animal Legal Defense Fund Executive Director Stephen Wells. "The Animal Legal Defense Fund's mission is to advance legal protections for animals. The goal of our new website is for users to learn about why animals need greater legal protections, how we are working toward that goal — and how they can get involved."
Founded in 1979 by attorneys active in shaping the emerging field of animal law, the Animal Legal Defense Fund has blazed the trail for stronger anti-cruelty laws, stronger enforcement of those laws and advancing the interests of animals through the legal system. The Animal Legal Defense Fund launched its new website nine months ago with the assistance of Threespot, an independent digital agency committed to helping others.
The Animal Legal Defense Fund's new website was designed with engagement and user experience in mind. Those who already support the organization's mission, and those new to animal law, can easily navigate through the Animal Legal Defense Fund's substantial collection of information to best assist and educate users on animal law, the Animal Legal Defense Fund's latest news and other animal advocacy resources.
Partners in Protection program makes it easier than ever for members to help animals throughout the year. It simplifies the donation process for you by automatically charging the amount you specify to your credit card every month.
Join Now
Related
An international fight to protect Pablo Escobar's hippos from slaughter results in a U.S. federal court order recognizing animals can be "interested persons"

The USDA fought to keep the numbers hidden from public view, ultimately paying $15,000 in attorneys fees in settlement

Today the Delaware County district court granted a motion for contempt filed by the Animal Legal Defense Fund against Cricket Hollow Zoo and its owners, Pamela and Thomas Sellner, seeking the whereabouts of more than 100 animals who "disappeared" prior to a court-ordered rescue.