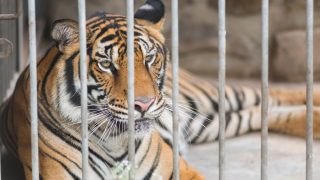 Animal Legal Defense Fund Files Motion for Summary Judgment to Free Tony the Tiger Once and for All
Naturalistic Habitat at Reputable Sanctuary Awaits Long-Suffering Tiger
Contact: media@aldf.org
BATON ROUGE, La. – The Animal Legal Defense Fund has filed a motion for summary judgment that would at long last resolve the years-long legal battle over the fate of Tony, the 16-year-old tiger held in a cage at the Tiger Truck Stop in Grosse Tete.
Tony has attracted the attention of animal lovers nationwide for the impoverished conditions of his captivity and the lengths to which Tiger Truck Stop has gone to continue profiting off the tiger's misery.
A lawsuit, filed by Tiger Truck Stop owner Michael Sandlin in 2012, argues that Louisiana's 2006 ban on private ownership of big cats is unconstitutional. Sandlin has been able to maintain captivity of Tony despite the ban because he has challenged the constitutionality of the big cat ban and also successfully lobbied Louisiana to pass Act 697, a law exempting Sandlin – and only Sandlin – from the big cat ban. Sandlin's lawsuit is intended to allow Sandlin to buy and exploit another tiger after Tony dies.
The Animal Legal Defense Fund's motion for summary judgment challenges both of these legal tactics employed by Sandlin to keep Tony at the truck stop. The motion demonstrates Louisiana's common sense ban on private possession of big cats was an appropriate and constitutional exercise of the state's authority. The motion also demonstrates the "special law" exempting Sandlin from the big cat ban was unconstitutional. If the court agrees with the Animal Legal Defense Fund and upholds the ban while striking down the exemption, Sandlin's possession of Tony will again be illegal and the Department of Wildlife and Fisheries will have a duty to intervene on Tony's behalf.
"Tony could have been moved to a reputable sanctuary years ago. A reputable facility has a standing offer to welcome him, but Tony's owner is intent on placing his personal profit over the tiger's well-being," says Animal Legal Defense Fund Executive Director Stephen Wells. "We remain hopeful that the legal system will do right by the law and allow Tony to live the rest of his life away from diesel fumes and roaring highway noise."
The Animal Legal Defense Fund thanks the law firms Jones Walker, Proskauer Rose, and Baker Donelson for providing pro bono representation in the case.
Related
The bill helps end the rampant abuse of tigers and other big cats in captivity by banning private possession

Graphic images of wound are posted on Tik-Tok by an employee of Gator Park — a facility owned and operated by Jason Clay.

The lawsuit alleges federally endangered and threatened animals such as the tigers, lions, and ring-tailed lemurs are receiving inadequate care at Tiger Creek