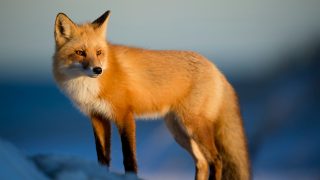 Animal Legal Defense Fund Expands Grants for Animal Law Courses
In addition to introductory animal law courses previously provided, the program will now also offer funding for more advanced courses
Contact: media@aldf.org
SAN FRANCISCO, CA — Today, the Animal Legal Defense Fund announced the expansion of its Animal Law Course Grant Program to allow accredited law schools to apply for $5,000 grants to fund new introductory and advanced animal law courses, or existing courses that are in danger of being cancelled due to budget cuts. The Animal Legal Defense Fund is now accepting grant applications for animal law courses to be offered in summer 2021, fall 2021, or spring 2022.
The grants are to help fund the salary of faculty who will be teaching animal law courses. All awardees will be required to submit a report following the course. Course grant applications must be accompanied by a proposed course syllabus, instructor CV — if an instructor has been identified — and an indication of administrative support for the course.
"We are excited to bolster our animal law offerings by providing an opportunity for in-depth, advance level curriculum at law schools," says Animal Legal Defense Fund Executive Director Stephen Wells. "Increasing educational opportunities in the growing animal law community is vital to our work as these students are future judges, attorneys, legislators, and advocates who will advance protections for animals."
The Animal Legal Defense Fund works closely with law students and legal professionals to advance the emerging field of animal law. Moving toward the day when animal law is part of the curriculum at every law school, the nonprofit collaborates with students, faculty, and school administrations to facilitate the development of animal law courses.
The Animal Legal Defense Fund also offers course guides for farmed animal law, companion animal law, and wildlife law that professors can use to help design a new course. In addition to supporting law students, the Animal Legal Defense Fund works to expand the practice and understanding of animal law in the legal community by delivering presentations at law firms and state bar association events and keeping volunteers updated on the latest cases, animal law conferences, and continuing legal education opportunities.
These grants have been made possible in large part by the generous financial support of International Society for Animal Rights.
Related
The $25,000 scholarship is available to a second-year law student at the University, and includes a clerkship with the nonprofit

International Fur Trade Federation's amended complaints dismissed in decisive victory for animals

This week the Animal Legal Defense Fund submitted comments to the U.S. Food and Drug Administration (FDA) advocating for accurate, consistent, and flexible labeling of cell-cultured fish and shellfish products — meat or flesh grown from the cells of fresh or saltwater finfish, crustaceans, and other forms of aquatic animal life.