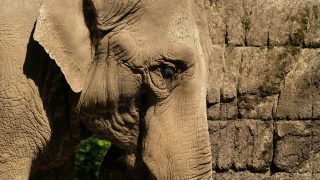 Animal Legal Defense Fund Moves to Dismiss Remaining Claims in Lucky the Elephant Lawsuit
Contact: media@aldf.org
San Antonio, TX – The Animal Legal Defense Fund, on behalf of the plaintiffs, has moved to dismiss the remaining claims against the San Antonio Zoo for violations of the Endangered Species Act because the goals of the lawsuit have been achieved.
The lawsuit was filed primarily to address the zoo's improper social isolation of Lucky, who had been without an elephant companion for several years. Despite complaints from San Antonio citizens and the Animal Legal Defense Fund that called attention to the fact that Asian elephants require companionship, the zoo had maintained that Lucky was an atypical elephant that preferred to be alone.
Thanks to the pressure our lawsuit brought to bear and relentless advocacy for Lucky, the zoo introduced two additional elephants, Nicole and Karen, as companions for Lucky. The three elephants appear to have bonded and have formed a herd. Notably, Nicole and Karen are retired Ringling Circus elephants whose move to the zoo from a Feld Entertainment facility is a significant improvement to their conditions, an additional benefit achieved from the lawsuit.
The zoo has also made other improvements to the Asian elephant habitat since the filing of the Animal Legal Defense Fund's lawsuit.
"While we had hoped that zoo officials would release Lucky to spend her final days at a sanctuary, we're pleased to see her living with companions in an improved habitat that can better meet an elephant's complex needs," says Animal Legal Defense Fund Executive Director Stephen Wells. "We are proud to have played a significant role in improving Lucky's life, and we remain committed to holding zoos accountable for providing animals the protections they are due under the law."
Lucky, an Asian elephant who was captured from her home in the wild, has been at the San Antonio Zoo since 1962 and had been living alone after her companion Boo died in 2013. For such an intelligent and social animal, a solitary life caused Lucky psychological harm.
Related
Reward for information leading to the arrest and conviction of the person or people responsible for illegally shooting and killing a red wolf in Tyrrell County, North Carolina.

The lawsuit alleges federally endangered and threatened animals such as the tigers, lions, and ring-tailed lemurs are receiving inadequate care at Tiger Creek

Thanks to Animal Legal Defense Fund supporters, a tiger named Nila, two lions — Buddy and Missa, two ring-tailed lemurs, a Mikado pheasant, a military macaw, and a blue-and-gold macaw will at last have access to species-appropriate habitats and enrichment.