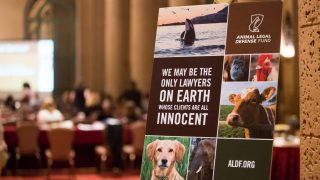 Animal Law Symposium: Washington, D.C. 2022
Saturday, September 24, 2022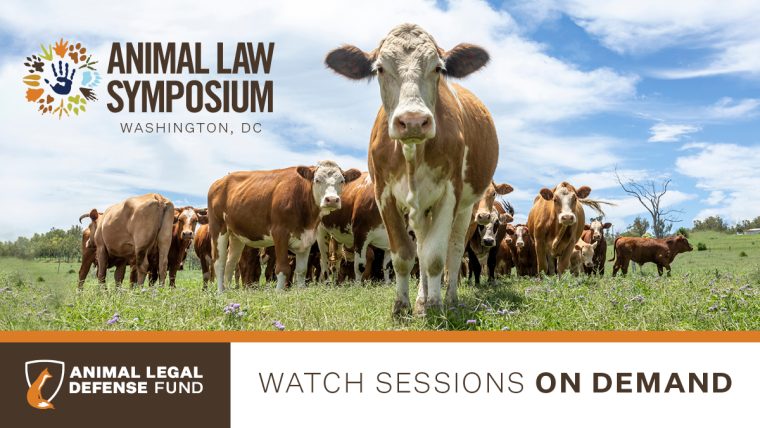 On Saturday, September 24, 2022, the Animal Law Symposium: Washington, D.C. featured panels of experts discussed crucial animal law issues currently before the courts that will have long-term effects for animals nationwide. The full-day symposium, co-hosted by GW Law's Animal Legal Education Initiative, took place in-person in Arlington, Virginia.
Agenda
Sessions
The Legal Significance of the Challenge to California's Prop 12
California's Proposition 12, which prohibits gestation and veal crates in the state and products from being sold in the state using such equipment, is being litigated in NPPC v. Ross. Panelists will discuss the origins and constitutionality of this historic humane law, the current challenge, and its potential implications on animal and food law.
Speakers:
Rebecca Cary, Senior Staff Attorney, The Humane Society of the United States
Amanda Howell, Senior Staff Attorney, Animal Legal Defense Fund
Pamela Vesilind, Assistant Professor of Law, Vermont Law and Graduate School
Moderator: Iselin Gambert, Interim Director and Professor, Fundamentals of Lawyering Program, The George Washington University Law School
Resources:
The Ongoing Battle Against Ag-Gag Laws
This panel will focus on recent U.S. and Canadian court cases challenging ag-gag laws that prevent whistleblowers from investigating and revealing the horrific treatment of animals on factory farms.
Speakers:
Thomas Bondy, Senior Counsel, Supreme Court and Appellate Litigation, Orrick
Caitlin Foley, Staff Attorney, Animal Legal Defense Fund
Camille Labchuk, Executive Director, Animal Justice
Moderator: Kathleen Schatzmann, Strategic Legislative Affairs Manager, Animal Legal Defense Fund
Resources:
Animal Cognition Research: The Cornerstone of Nonhuman Legal Rights
The ongoing legal fight for nonhuman animal rights in litigation as well as legislation and policy is reliant on the strength of the evidence for capacities that show other animals are eligible for species-specific rights. And that evidence necessarily comes from the ever-growing dynamic scientific literature on animal cognition and related abilities. This keynote will provide examples of how the science of animal cognition has become an integral part of efforts to recognize the legal rights of other animals in the U.S. and other countries.
Speakers:
Lori Marino, Founder and President, The Whale Sanctuary Project
Moderator: Stacey Gordon Sterling, Animal Law Program Director, Animal Legal Defense Fund
Legal Pathways to the Courts for Animals
This panel will discuss different approaches at advancing animal standing and personhood. It will look at the recent habeas corpus decision in In Re Nonhuman Rights Project v. Breheny (N.Y.) denying habeas corpus relief to Happy, an elephant in the Bronx Zoo. It will also look at the foreign discovery application granted to the Colombian hippopotamuses by a federal judge, the lawsuit on behalf of a horse named Justice against the person who neglected him to recover costs of ongoing medical care, and other cases.
Speakers:
Christopher Berry, Managing Attorney, Animal Legal Defense Fund
Elizabeth Stein, NY Counsel, Nonhuman Rights Project
Moderator: Rajesh Reddy, Director, Animal Law Program, Center for Animal Law Studies at Lewis & Clark Law School
Resources:
Rights of Nature and Animals: Advances and Setbacks
This roundtable will discuss current rights of nature and animals cases, including the legal rights of water bodies to "exist, flow, be protected against pollution and maintain a healthy ecosystem;" the scope of the Ecuadorian constitution to protect the Los Cedros cloud forest and wild animals; and the future paths for these conversations and approaches to advocacy.
Speakers:
Randall Abate, Assistant Dean for Environmental Law Studies, The George Washington University Law School
Marcia Condoy Truyenque, Animal Law LLM Candidate, Lewis & Clark Law School
Chuck O'Neal, President, Speak Up Wekiva, Inc
Moderator: Danny Waltz, Managing Attorney, Animal Legal Defense Fund
Resources:
Related
The 17th annual U.S. Animal Protection Laws Rankings Report (2022) ranks the animal protection laws of all 50 states.

The amicus briefs from notable experts including Harvard University's Laurence H. Tribe filed in support of neglected horse's lawsuit against his former abuser

Join co-host Jackson Galaxy, comedian Nikki Glaser, and other special guests