2016 Advancement of Animal Law Scholarship Winners
The Animal Legal Defense Fund Advancement of Animal Law Scholarships are awarded to law student members of our student chapters based upon demonstrated commitment to Animal Legal Defense Fund's mission, "to advance the interests and protect the lives of animals through the legal system." Recipients are actively involved with their Animal Legal Defense Fund Student Chapter while in law school and show promise in the field after graduation.
Will Lowery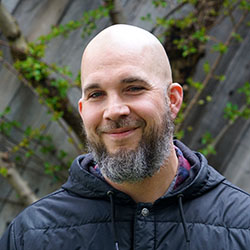 Will Lowery is finishing his 1L year in the accelerated degree program at Vermont Law School (VLS) and will serve as co-chair of the Animal Legal Defense Fund Student Chapter for the 2016-2017 year. Will previously served as the chair of the Social/Media and Fundraising Committee and his work in support of the Animal Legal Defense Fund Student Chapter included coordinating a speaking event at VLS by Steven Wise of the Nonhuman Rights Project, organizing a student volunteer day at a local farmed animal sanctuary, drafting a proposal for an animal law certificate at VLS and planning a fundraiser for two local humane societies. Outside of the Animal Legal Defense Fund Student Chapter, Will sits on the board of the Upper Valley Disaster Animal Response Team and is leading a project with Upper Valley Humane Society to implement a community outreach program for low income pet owners. In February 2016, Will competed in the Legislative Drafting and Lobbying portion of the National Animal Law Competitions at Harvard and won 2nd place.
Prior to coming to law school to advocate full time for animals, Will worked as a project manager in the corporate world while simultaneously leading or volunteering for numerous animal protection organizations. Will spent much of the past 12 years advocating for pit bulls in his home state of Virginia along with leading animal rights protests, deploying to assist animals in numerous disasters, building free fences for chained dogs, and helping operate an animal welfare program on a Sioux Indian reservation in South Dakota.
Will came to law school after continuing to encounter the intersection of animals and the law through his engagement on numerous animal fighting cases and cruelty/neglect situations and ultimately realizing where he could make the greatest impact. After he graduates, he plans to advocate for animals through the prosecution of animal crimes or litigation and legislation on their behalf.
Jonathan Morris
Jonathan Morris is a third-year law student at Lewis & Clark Law School in Portland, Oregon. In 2014, during his first year of law school, Jonathan was a source checker for Lewis & Clark's Animal Law Review and served as a volunteer at the Animal Law Review Symposium.
In 2015, he worked as Animal Legal Defense Fund's Animal Law Program clerk and was elected the public relations chair of his law school's Animal Legal Defense Fund Student Chapter. He helped organize several Animal Legal Defense Fund Student Chapter events with other board members, which included the chapter's first annual Work Party and Retreat. During the event, the Animal Legal Defense Fund Student Chapter teamed up with an environmental student group to build a shelter for residents at a local farmed animal sanctuary, and they concluded the event with a camping trip on the Trask River in Oregon. Jonathan also volunteered at the 2015 Animal Law Conference, and he looks forward to attending this year's event in New York City.
Up to this point in his law school career, Jonathan has focused on a multi-disciplinary approach to animal legal issues. He has taken courses including criminal law, business associations, and environmental law in an effort to understand how other areas of law can be used to benefit animals, and he is currently authoring a paper on the evolution of the nuisance doctrine as applied to animal agriculture facilities. Jonathan also serves as an Associate Editor on Lewis & Clark's Environmental Law Review.
This summer, Jonathan will work as a law clerk for Animal Legal Defense Fund's Litigation Program in Cotati, California, where he hopes to gain valuable litigation experience to further the interests of animals. After graduation, Jonathan intends to maintain a relationship with his law school's Chapter, as an advisor, in an attempt to provide other law students with the opportunities that he was fortunate enough to receive from Animal Legal Defense Fund.
Ali Pester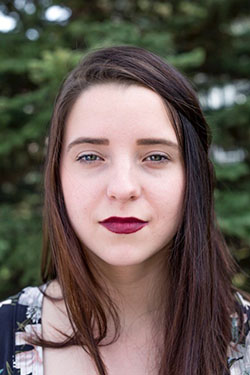 Ali Pester is a third-year student at Osgoode Hall Law School in Toronto and has served as president of Osgoode's Animal Legal Defense Fund Student Chapter since 2015. Her five years of grassroots advocacy experience with The Humane League, Vegan Outreach, PETA, and Mercy for Animals inspired her to join the movement of lawyers working toward legal change for animals. Since starting law school, she has worked to draw on these many experiences within the movement to direct her Chapter's efforts as well as her own legal advocacy work.
With her Animal Legal Defense Fund Student Chapter, Ali has expanded interest in animal issues among fellow law students through outreach initiatives such as leafleting, vegan bake sales, networking events, sanctuary visits, screenings of the films Cowspiracy and Earthlings, and speaking events. This year, Ali's chapter hosted "Criminalizing Compassion?" which highlighted the growing threat of criminalizing advocacy by discussing the prosecution of activist Anita Krajnc of Toronto Pig Save. By drawing on multiple areas of the law in their events, Osgoode's Animal Legal Defense Fund Student Chapter has been able to foster interest in animal issues among a diverse set of students.
Ali spent her first year summer interning in Mercy or Animals' legal department in Los Angeles, where she worked primarily on Canadian investigations and operations. She will now spend the summer working at a Toronto criminal defense law firm, where she will assist in defending animal activists charged with criminal offenses and other projects. Ali also volunteers her time to assist in various animal protection efforts with Zoocheck Canada and the Toronto Vegetarian Association.
Ali plans to use her education to provide legal support to organizations and grassroots activists performing campaigns, investigatory, and outreach work and hopes to use the law as a vehicle to encourage change for animals at both the personal and institutional levels. She is excited to serve as an advisor to Osgoode's Animal Legal Defense Fund Student Chapter following graduation, and to encourage future law students to work towards a stronger and larger movement for animals.
Raj Reddy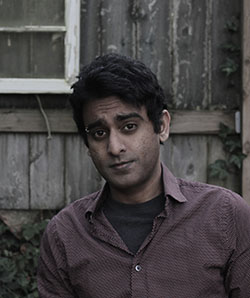 Raj Reddy is a rising third-year student at Lewis & Clark Law School. Before moving to the Northwest to pursue his J.D., Raj was a doctoral candidate in English at the University of Georgia. Notably, it was by exploring parallels between human and nonhuman animal exploitation in postcolonial literature that Raj determined to enter a career in animal law.
Since coming to Lewis & Clark, Raj has strived to be an active member of his Animal Legal Defense Fund Student Chapter. From having served as the group's treasurer in his first year to its co-director in his second, Raj coordinated one of the group's most inclusive volunteer events to date, bringing members of LC Animal Legal Defense Fund Student Chapter, the Center for Animal Law Studies, and the Animal Law Review to a local sanctuary to improve the lives of farm animals. Other events in which he engaged include Farm Sanctuary's Walk for Farm Animals, Factory Farming Awareness Coalition's community outreach event, and Save Endangered Animals Oregon's ballot initiative, just to name a few. As the student coordinator of the international-themed 2015 Animal Law Conference, Raj also served as the representative for the more than two hundred student chapters of the Animal Legal Defense Fund Student Chapter.
Raj has a vested interest in legal research and scholarship. In addition to clerking for the Center for Animal Law Studies during his 1L and 2L years, Raj has been extensively involved with the Animal Law Review, where he has served as a volunteer source checker and managing editor. Along with taking on the mantle of the publication's co-editor-in-chief position this summer, Raj will begin clerking for Animal Legal Defense Fund's Criminal Justice Program, as well as deliver a paper at the Oxford Centre for Animal Ethics regarding India's beef-ban laws. Upon completing his J.D., Raj hopes to dedicate his future efforts to advancing the animal law field and to strengthening animal protections.
Lauren Tavar
Lauren Tavar is entering her third year of law school at American University Washington College of Law (WCL), where she will serve as president of the WCL Animal Legal Defense Fund Student Chapter after previously serving as its vice president. During her time at WCL, Lauren has planned and overseen four "Puppy Day" events by pairing with a local rescue to promote dog adoption. To further promote the "adopt don't shop" mission, Lauren also coordinated another event that involved bringing 20 law students to volunteer with a local animal rescue during an adoption event. During her second year, she also planned a Lunch & Learn event hosting Dr. Richard Ruggiero of US Fish and Wildlife Services to discuss the current plight of the African elephant; hosted Tom Linney of Animal Legal Defense Fund to discuss career opportunities in animal law; and arranged for Will Potter to discuss issues related to ag-gag laws. As the incoming president for 2016-17, Lauren has begun planning initiatives to pursue next year such as bringing back "Meatless Monday" and cage-free eggs to her campus.
In addition to her leadership with the WCL Animal Legal Defense Fund Student Chapter, Lauren served as the regional representative for DC-area Student Chapters. In this capacity, she connected the DC students with one another in order to foster a better sense of community and support each other's events. Additionally, Lauren coordinated a trip to Poplar Spring Animal Sanctuary for all interested students in the DC-MD-VA area.
This coming fall, Lauren will be working with Born Free USA on a wide array of wildlife issues. Lauren recently spent a week volunteering with rescued Asian elephants through Wildlife SOS in Agra, India. As a result of her time at Wildlife SOS, Lauren realized her passion lies with animals used for entertainment purposes, and she hope to pursue this by working with a nonprofit animal organization. Lauren is most interested in working within the government affairs and regulatory realm, where she would like to bring about change through legislation on the state and federal levels.
Related
The California Court of Appeals affirmed a ruling by a lower court recognizing Society for the Prevention of Animal Cruelty (SPCA) organizations' ability to file lawsuits against entities that violate existing animal protection laws.

Reward for information leading to the arrest and conviction of the person or people responsible for illegally shooting and killing a red wolf in Tyrrell County, North Carolina.

Animal Legal Defense Fund files motion for summary judgement with damning evidence against the university