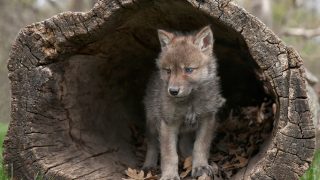 Act Now to Protect Animals in Alaska's National Wildlife Refuges
UPDATE – March 22, 2017
Thank you to all of our supporters who took action on this issue. Unfortunately, the bill has passed, and we expect it to be signed by President Trump. We are disappointed in this outcome, but remain committed to defending the Endangered Species Act and supporting other legislation that offers animals the protections they deserve.
Alaska's wildlife is under attack and we need you to be their voice. Just seven months ago, the U.S. Fish & Wildlife Service enacted a rule to prevent the State of Alaska from allowing horrific methods of wildlife control including steel-jawed leghold traps and neck wire snares, shooting hibernating bears with their cubs, killing wolves and their pups during denning season and shooting grizzly bears from airplanes. Now that important rule is under threat.
A new proposal would allow people to kill wolves and bears using these cruel and indefensible methods again. The attempt to roll back basic protections for Alaskan wildlife is being fueled by trophy hunters.
Take action today to defeat this dangerous proposal.
We've made it easy for you to contact your senators and tell them you do not support H.J. Res. 69 and S.J. Res. 18, the congressional joint resolution that would permanently repeal protections for Alaskan bears and wolves.
Thank you for your support.
Related
Reward for information leading to the arrest and conviction of the person or people responsible for illegally shooting and killing a red wolf in Tyrrell County, North Carolina.

The lawsuit alleges federally endangered and threatened animals such as the tigers, lions, and ring-tailed lemurs are receiving inadequate care at Tiger Creek

Thanks to Animal Legal Defense Fund supporters, a tiger named Nila, two lions — Buddy and Missa, two ring-tailed lemurs, a Mikado pheasant, a military macaw, and a blue-and-gold macaw will at last have access to species-appropriate habitats and enrichment.