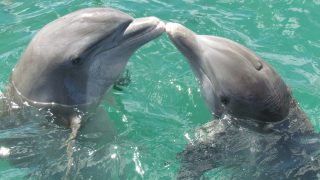 $10,000 Reward Offered for Information about Wild Dolphins Shot and Killed in Florida
Animal Legal Defense Fund offers reward for information leading to arrests and convictions in cases of two dolphins' deaths in Escambia and Collier Counties
Contact: media@aldf.org
TAMPA, Fla. – The Animal Legal Defense Fund, the nation's preeminent legal advocacy organization for animals, is offering a $10,000 reward for information leading to the arrest and conviction of the person or people responsible for killing two wild dolphins in Escambia and Collier Counties, Florida.
The first victim – a male dolphin – was discovered dead near Naples in late January. The dolphin had a large, deep gash on his snout, which officials believe was the result of being shot or stabbed. Additionally in late January, the second victim – another male dolphin – was found at Pensacola Beach with a bullet in his left side.
"People who hurt animals don't stop with animals. There is a link between cruelty to animals and cruelty to human beings," says Animal Legal Defense Fund Executive Director Stephen Wells. "We commend the National Oceanic and Atmospheric Administration for taking these senseless acts of cruelty seriously and urge anyone with information to come forward so those responsible can be brought to justice."
The Marine Mammal Protection Act makes it a crime to harass, hunt, kill, or feed wild dolphins. The maximum penalty for each violation is up to one year imprisonment or a fine of $100,000, or both.
People have been known to feed dolphins in the areas where these dolphins were found. This leads to dolphins associating humans with food, lowering their inhibitions and wariness, and putting them at risk of harm.
If you have information related to these incidents, please contact the National Oceanic and Atmospheric Administration, Southeast Regional Office Enforcement Hotline at 1-800-853-1964.
For more information, visit aldf.org.
Related
Cows were killed in Madison, Brazos, and Robertson Counties, Texas.

Reward for information leading to the arrest and conviction of the person or people responsible for illegally shooting and killing a red wolf in Tyrrell County, North Carolina.

Animal Legal Defense Fund offers reward for information leading to the arrest and conviction