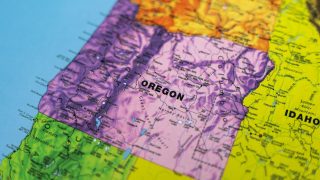 Oregon
Updates about legal issues facing animals in the state
The Animal Legal Defense Fund works at the federal, state and local levels to protect the lives and advance the interests of animals. This page is meant to be used as a resource to see what is happening in your state and what actions you can take for animals.
State Rankings
Each year, the Animal Legal Defense Fund publishes its U.S. State Animal Protection Laws Rankings Report. It is the longest-running and most authoritative of its kind, assessing the strength of each state's animal protection laws by examining over 3,400 pages of statutes. Each state is ranked based on 19 different categories of animal protection.
Oregon
Overall Rank: #3 (Top Tier)
+Animal cruelty is an abatable nuisance
+Sexual assault statute is adequately defined, addresses related crimes, and the sexual assault of an animal is a sex offense
+Increased penalties for cases involving multiple animals
-No felony provision for abandonment
-Other agencies or departments are not required to report suspected animal cruelty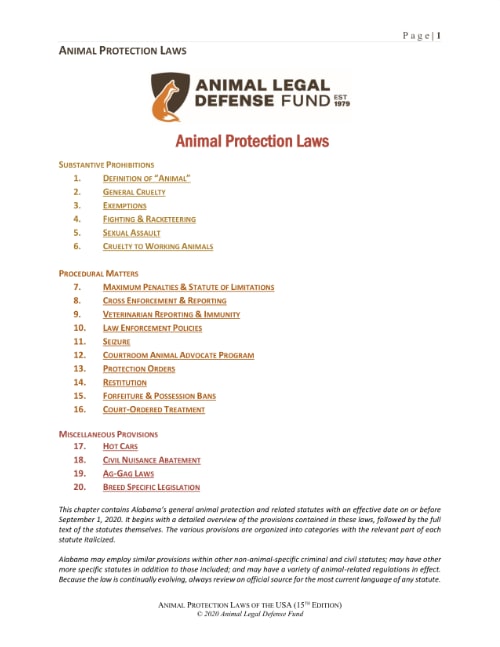 Animal Protection Laws of Oregon
The Animal Protection Laws of Oregon compendium contains the general animal protection and related statutes for Oregon with an effective date on or before September 1, 2020.
Active Legislation

Prohibits persons from conducting or participating in events that have the goal of taking coyotes for cash or prizes (HB 2728)
Killing contests refer to events or tournaments where participants compete to kill as many animals as possible during a specified time period. Cash and prizes are awarded to those who kill the most animals or the largest or smallest animal. HB 2728 would prohibit coyote killing contests in Oregon.

Creates a moratorium on the construction or expansion of mega-dairies (HB 2924/SB 583)
HB 2924/SB 583, sponsored by Representative Rob Nosse and Senator Michael Dembrow, would create a moratorium on the construction of new mega-dairies as well as the expansion of existing mega-dairies, defined as more than 2,500 cows.
Active Cases

Justice v Gwendolyn Vercher
In 2018, the Animal Legal Defense Fund filed a groundbreaking lawsuit on behalf of an 8-year-old horse named Justice. If successful, this lawsuit will be the first to establish that animals have a legal right to sue their abusers in court.
Recent Victories
Take Action
Take action now to help animals in your state.

The Oregon Legislature is considering a bill (HB 2728) that would ban coyote killing contests — the most common species targeted by these cruel events. This bill recently passed the House of Representatives and is now in the Senate.